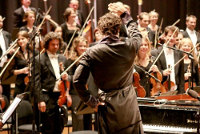 In less than a month, Gonzales will kick off a tour for Chambers that currently runs to November. We started thinking about the best Gonzales shows we've seen, and thought we'd put together a list of what makes for a really great Gonzales concert.

Enjoy the show
Think about some of the best concerts you've been to over the years – what made them special? From our perspective the best concerts were the ones where the entire audience was pumped with anticipation for a great concert and and had their minds open to take in the experience. It's incredibly difficult to capture all the fleeting wonderful moments in a Gonzales concert – you just have to let the music and humour sink in as much as possible. Technology is great, but one of the unfortunate drawbacks is that all of a sudden we have become 'press photographers' or 'concert reviewers' and it's more of a job than an enjoyable experience.
There are professional photographers and reporters at Gonzales' concerts, and while they say that they enjoyed the show, they also have a job to do and are concentrating more on capturing pictures or taking notes for the next day's paper. We're guilty of this ourselves. We want to capture something for sologonzales, so we end up literally missing moments of the show by looking at Gonzales though a tiny screen or worrying about when to take a picture. Gonzales is in front of you live and in-person, and his concerts literally fly by in what seems like an instant, so it's a shame to spend any time thinking about 'capturing' moments in any way other than trying to form moments in your own head. Think about how many times you have gone back and looked at video or pictures of a concert versus re-experiencing the feeling within your mind. Which one is more satisfying? Pictures are a nice memento to show other people, so we'd suggest taking pictures when Gonzales initially walks on stage and after he's finished the concert. You may also be too far back to snap a decent photo. Many of our photos just make us yearn for a better shot (which is very difficult, given the environment). For us, the concerts where we sat back and took it all in have been by far the most satisfying.
Noise
Gonzales' concerts do not have a 'wall of sound', and are usually held in venues with excellent acoustics. Sound dynamics range from very, very quiet and soft, to loud (but far from ear-shattering). This means that when you start talking to your friend, or your phone rigs, everyone in the venue can hear you. Outside of medical emergencies, there aren't many reasons to have a conversation or forget to shut off your phone. It seems that Gonzales wants everyone to have a very deep and personal experience at his concerts, which is made that much more special without distractions.
Participation
Most people attending a Gonzales concert know that there is usually an element of audience participation, be it singing, humming, clapping, volunteering to come up on stage, and so on. If you can just let yourself go and participate, the entire venue comes alive and you end up physically experiencing Gonzales' music, which definitely stays with you. You've heard Singalong many times – here's your chance to experience it with Gonzales. If he asks a question, it's fun to shout out your answer, or even just your opinion.
Applause
All entertainers love applause, and it's a great way for the audience to let Gonzales know that they enjoyed his song and performance. There are two applause moments that stand out for me personally. The first was in Montreal just before Solo Piano II was released. Gonzales had put on an incredible show, and the crowd was going crazy after he waked off stage, which brought him back for an encore, but after he walked off a second time, the audience was so pumped up that they refused to stop applauding and hollering, which brought Gonzales back for a rare second encore. The other memorable applause moment was at the Winter Gardens show in Toronto – right in the middle of the show, the audience gave Gonzales a minute-long standing ovation, which seemed to stun Gonzales. The point being that Gonzales seems to truly feel the physical show of appreciation that applause conveys; feel free to applaud to your heart's content – he seems to hear you.
Merch
Gonzales always brings along a table full of goodies for sale and some freebies. If you bring cash, you can pick up some wonderful Gonzales songbooks, posters, CDs, vinyl, buttons, and (sometimes) shirts and save on shipping costs. The problem is that the merchandise sells out fast, which means that if you are going to buy, line up before the show to pick up what you want.
Meet Gonzales
There's no telling when Gonzales will choose to do a meet-and-greet with fans after the show, but he's been known to do so on occasion. The last one we heard of was in Germany in June of last year. If you hear of a meet-and-greet, don't miss the opportunity to have a few words with Gonzales, plus he seems more than happy to sign things and talk to fans.
Sold Out
Gonzales' fans seem to have this problem a lot. The venues he chooses are generally intimate, which means 1,000 – 3,000 seats, so even shows on consecutive nights are sold out quickly. The best way to avoid disappointment is to buy tickets as soon as they are available. If the show is truly sold out, there are two options; sometimes people can't attend at the last minute, and they broadcast this on Twitter or Facebook (sometimes, Gonzales will re-tweet that tickets are available). Just search for "Chilly Gonzales" on the days before the show (and the day of the show).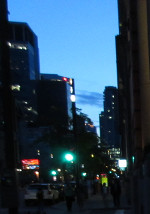 Sometimes, there are extra tickets for sale at the box office the day of the show, but this is relatively rare. Finally, sometimes Gonzales has a skill-testing musical question on Twitter the day before or the day of the concert with the first correct response winning a couple of tickets.
On one occasion, we found ourselves outside of a sold-out Gonzales show (we had tickets to the show the next night, but came to meet people). Standing outside, we could hear Gonzales playing "Overnight" through the door of the venue, which was the perfect song to accompany the twilight-filled evening.

Special Moments
If you are lucky enough to see Gonzales in concert, there will be a moment in the show when all you hear is his music – maybe he's playing a song that's especially poignant to you. Close your eyes for a few moments and let the music wash over you so that it sinks in deep. People often tell us that they feel extreme happiness or recall a special moment and the tears sometimes just flow with emotion. For years after the show, you'll be able to instantly re-live that moment and you'll be filled with feelings that no picture or video can come close to replicating.