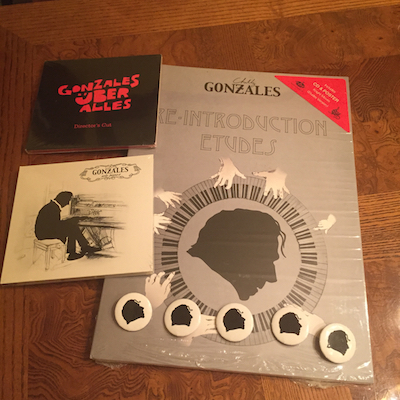 We're happy to announce our first Gonzo Giveaway! Over the past few years, we have attended a number of Gonzales concerts and have accumulated duplicate items that we'd love to pass along to another Gonzales fan. Here's what you can win:
- A sealed copy of 'Re-Introduction Etudes'
- Uber Alles and Solo Piano II CDs
- 5 Gonzales buttons
As the giveaway is being run from Canada, we have odd rules to ensure that the giveaway isn't classified as gambling, so we have to ask a series of skill-testing questions on all things Gonzales.
Entering the contest is simple. Just follow us on Twitter (we assume that you are already following Gonzales), and complete the form below, which includes your email and twitter IDs for validation. Strict Canadian privacy rules do not allow us to use your email for anything other than winner validation without your consent. Once a successful winner has been selected and contacted by random draw from the entries (with all questions answered correctly), all contest data will be deleted.
The contest runs from Midnight March 10th, 2015 until the first release of Chambers: Midnight (GMT), March 19th, 2015. All entries are timestamped – any entries past the close date will be disqualified.
Legal Stuff
The contest is open to anyone in the world with a valid physical mailing address. We are not responsible for import duties, fees, or any additional handling charges your country or delivery service may impose, but will indicate that the items are a gift. We are also not responsible if the items are not received or delivered and will not insure the prize or provide a tracking number. The odds of winning are dependent on the number of correct entries received. Sologonzales is not liable for missing entries due to delivery or other issues. One entry per person, please.
For any contest questions, please contact us here.