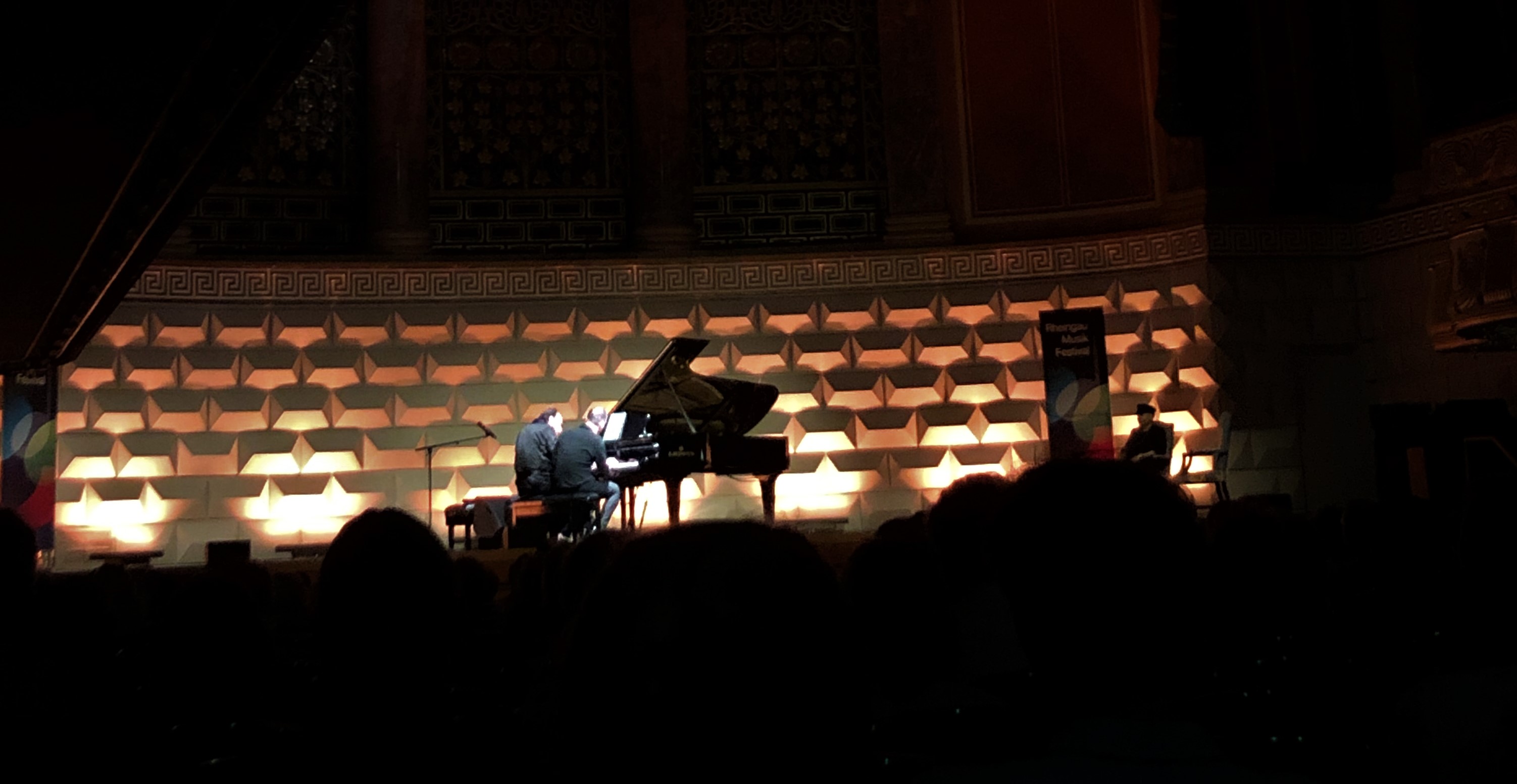 When the hair on your arm is in a state of permanent erection and your eyes become instantly wet, you know you're experiencing something extraordinary. In this case, it was the ménage à trois of some of the greatest piano artists of our time at the prestigious Rheingau Musik Festival: Chilly Gonzales, the fierce musical polymath, Igor Levit, the courageous classical interpreter, and the epitome of lyrical, Malakoff Kowalski.
As I made my way to Kurhaus Wiesbaden in the picturesque Rheingau region, I was clueless what to expect. Three male bohemians around one baby grand sounded like too much competitive potential to my ears, but it turned out to be the opposite: a display of modern Minne, an expression of shared love for the instrument – and a deeply rooted appreciation for each other. An intimate evening of – cheesiness alert – harmony featuring three kings, two musical thrones and a piano bench, a symbiotic temporary reign over Pianotopia.
It was the last show of Gonzales' residency at the Rheingau Music Festival in the almost obscenely opulent Kurhaus, and so it was only appropriate that he entered the stage first with a Solo Piano overture. If the piano was a woman, Gonzales would be the passionate lover any lady should have experienced at least once in her life: someone who masters the interplay of the delicate touch and demanding grasp, playful intermezzos, change of rhythm, and a grand finale. Somebody who knows to hit the right spot at the right time, who builds up tension to intensify the release, who is so in tune with you that you get lost in him. Somebody who is brave enough to reveal his vulnerabilities and yet confidently makes love to you like no man before. On a less slippery note, listening to his Solo Piano "mixtape" is like meeting dear old friends. You know them very well, but they have aged in dignity and every time you meet them, you discover a beautiful new shade. CM Blues is one of those old friends. A piece that has grown on me so much over time that the first few chords immediately put me in a state of bliss.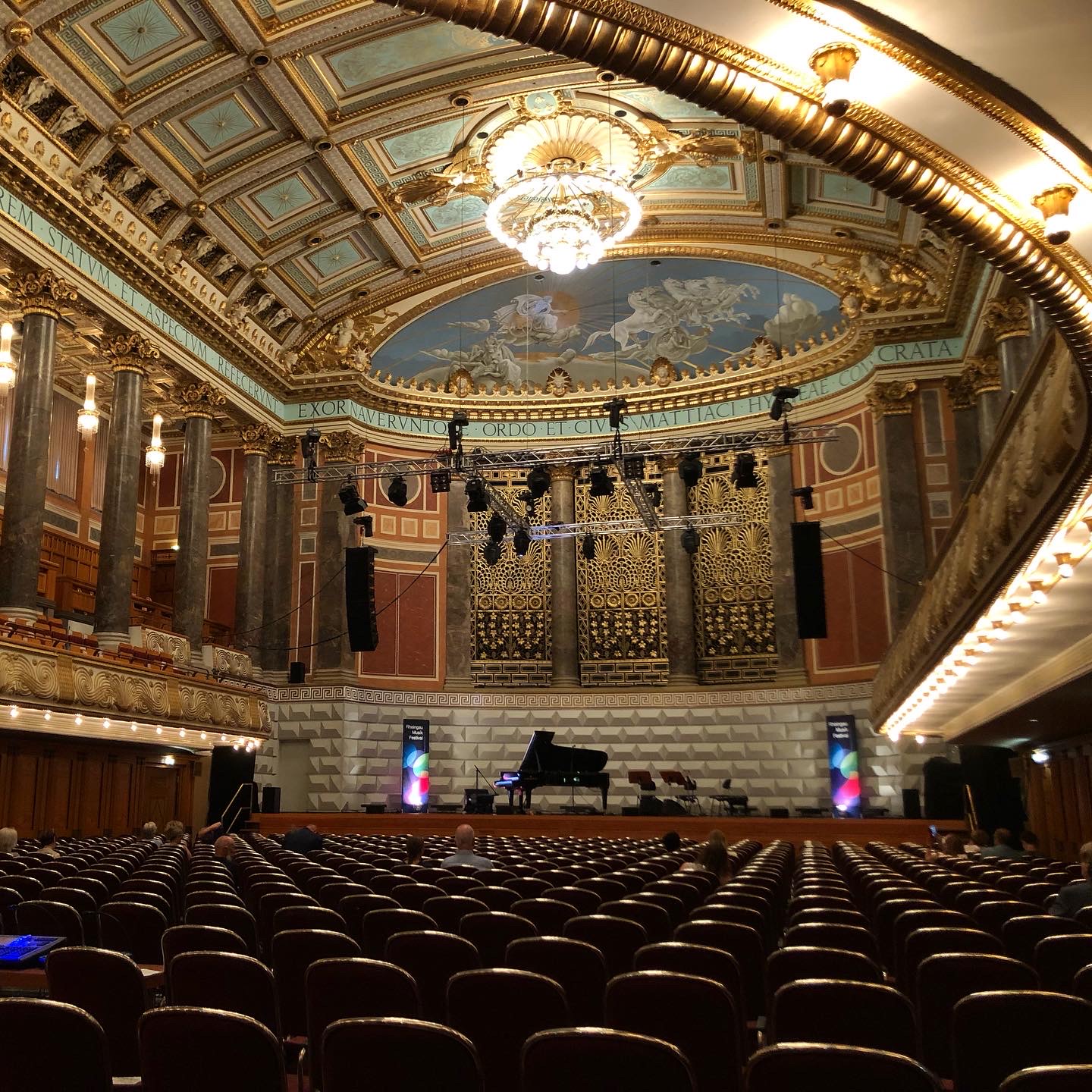 The acoustic illusion
After a first round of frenetic applause, it was time to make way for Malakoff Kowalski, and Gonzales took a seat on a throne-like chair side stage with the Apollo adorned cupola spanning the stage. If the piano was a woman, Malakoff would be the sweet seducer, the guy who delicately lures you into succumbing to temptation and massages you with milk and honey. Whose touch is firm and almost imperceptible at the same time, stirring up a rollercoaster ride of emotions. As a nod to the host, a sequence of Dot served as the foreplay. And once his first round of magic had put a spell on everyone's ears, it was again time to take a throne and leave the piano to Igor.
If the piano was a woman, Igor would be the playful and creative routineer, the perfectionist who knows exactly what he does, but always has a surprise up his sleeves, who masters the art of reinterpreting the known anew over and over again. When he presented the first piece of his short solo set, my brain was rattling, unable to place it. Is that Chopin turned upside down? Some unknown or improvised Brahms? How wrong I was. It was Malakoff Kowalski's Corona-born masterpiece "August Rosenbrunnen" inspired by walks with Igor in their Berlin hood when the lockdown forced the world into recluse. Full of beautiful tension and sweet release, melancholy, sadness and a glimpse of hope. Igor Levit, the interpreter, interpreting Malakoff – followed by a subtle rendition of Gonzales' Pretenderness – the dramaturgy couldn't have been any more alluring.
Fourth act with climactic Cohen and Schumann
The next, fourth act led up to the climax (in a classical drama sense, of course), starting with a four-handed (Gonz and Igor) Leonard Cohen improvisation of "Hey That's No Way to Say Goodbye", a reference and homage not only to Gonzales' roots, but also to his groundbreaking Guinness World Record concert in 2008. They then took turns in intertwining Gonzales pieces with Shostakovich preludes in such vigor that the listener was left with a thrilling confusion of both composers. Igor swapped seats at the piano with Malakoff again and Gonzo de-dusted his melodica to accompany him for "Euphoria, Lobster and Champagne".
The emotional height was reached when Malakoff took the microphone and sang an Allen Ginsberg poem over Robert Schumann's "Nachtstücke" (4). His voice – already irresistible on tape – unfolds even more beauty and depth on stage. It's like Persian accentuation and expressiveness meets Frank Sinatra to amalgamate into a tear-jerking compassionate embrace. A vocal "West-Eastern Divan". And how the words of Ginsberg's "Refrain" melted into the piece! "The air is dark, the night is sad, I lie sleepless and I groan. […] Shadow changes into bone." Schumann's Nachtstücke is like the antidote of a lullaby that addresses what lullabies try to suppress and lull away: that at night all types of shadows come to life – the thoughts, worries, regrets, could-have-been's and shouldn't-have-been's, the wants, temptations, and desires, the burdens of being. The night as a symbol for "anything Id". It's a composition based on the same-named novel by master of the dark and eerie, E.T.A. Hoffmann. Ginsberg's poetry adds a grim but honest and intense layer to the piece, Malakoff's voice serving as the mesmerizing medium. My inner play-on-repeat-meter is hoping for a recording of this song. It was too precious to be one moment in time only. Btw, Gonzo has dedicated a whole fairy tale play to "The Shadow" – another link to the hosts oeuvre.
From the abyss to the moon: Igor and Gonzo's powerful and accentuated play catapulted Malakoff's vocals straight to space with a snappy version of "Fly Me to the Moon" as the final number in a golden years of entertainment fashion. Sweat, satisfied faces and standing ovations before one after the other returned on stage for a four- and finally six-handed "How I Think of You" with Malakoff taking over the microphone one more time. No Gonz-concert without Gonzo rapping: the second encore turned Malakoff and Igor into piano-beat machines with Gonzo turning "So-Called Party" and "Music is Back" almost into a quodlibet.
And then, they disappeared into the night, while the piano had a cigarette and silently gasped for more.