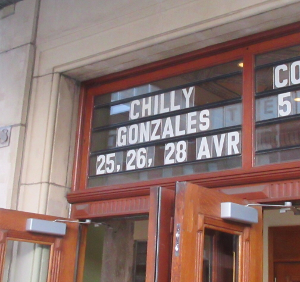 Montreal is practically founded on the principles of faith, salvation and resurrection, and sitting high on the side of Mount Royal are two reminders of these tenets: Mount Royal Cross and St. Joseph's Oratory. Strolling by Mount Royal on Avenue Parc, one can't help but notice the 100-foot tall steel cross looking over the citizens. Originally wooden, the cross has been updated, replaced, and retrofitted over the 372 years since it was first erected by the founder of Montreal (Paul de Chomedey, sieur de Maisonneuve). A quick walk from the cross lies St. Joseph's Oratory, which contains a chapel where one can find thousands of canes hanging off a wall overlooking thousands of candles. The canes were left behind when St. Joseph's founder, Saint André Bessette, used his faith and healing powers to cure thousands of people of their ills.
Even the buildings have a salvation of sorts – one can find many condemned buildings 'saved' and converted to usable and beautiful reminders of the artistry and ingenuity of generations before us. In retrospect, it's easy to see how the buildings lapsed into disarray, and the Théâtre Outremont is a prime example. Originally built as a theatre and cinema, it contained cutting-edge style and comfort for patrons over many years. As tastes changed, less and less people were attracted to the theatre, which brought in less profit, which meant neglecting required maintenance and upgrades. The theatre eventually closed and sat empty and unheated for years, quietly awaiting its fate; practically existing only in the minds of ageing Montrealers who remembered its heyday.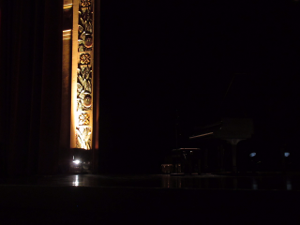 On Gonzales' opening night, the lights shone brightly around the intricately carved proscenium, which was framed in bright red floor-to-ceiling curtains, as if to mirror the cover of Gonzales' Chambers. A semicircle of spotlights drew a pattern around four empty chairs and a grand piano, with a drum kit barely visible towards the back of the stage. At a glance, the crowd was still largely young (18-35), but there were a substantial number of people over 50 as well, which was a slightly older demographic than Gonzales' previous Montreal concert at the Rialto in 2012. Looking around the theatre, the unique and functional clean lines of Art Deco ornamentations graced the walls and ceiling, which may reflect how the theatre looked on opening night in 1929 when one can imagine the likes of Gershwin or Rachmaninoff walking out onto the stage. The theatre filled up quickly as patrons chatted in a mix of French and English; for the majority of people around us, this was their first Gonzales concert – the elation of which will undoubtedly last for days afterwards.
Just after 8:00, the house lights dimmed and after a brief pause, Gonzales walked out of the shadows and into the spotlight to a roar of applause and whistles. He gestured hello to the crowd with hands that would soon be immersed in coaxing pure beauty out of the large Steinway. Retroactively, we'll call his first three solo selections collectively as "Ooo" – Othello, Overnight, and Oregano, which certainly drew "Oooohs" from the crowd.
The Poetic Othello
Going back to 2005, one can hear Gonzales playing early vestiges of what would later become Othello in hard-to-find sound bites. From that measure, Gonzales had been forming and toying with the essence of Othello for almost 10 years prior to its release. It would appear that Gonzales felt that Othello wasn't quite ready, or didn't fit with his current music until 2012′s Solo Piano II was released. Waiting must be incredibly difficult – there's a great deal of gratification in releasing a song and receiving feedback, but there must be even greater gratification in crafting a song that will withstand the test of time. The version of Othello that Gonzales flawlessly played stuck fairly closely to the album version, with additional "depth" provided by the grand piano. Othello is bouncy, fun, and lighthearted, reflecting its Jazz and island-infused roots – a great choice to set the mood for the evening.
A Short Journey
After the applause died down, Gonzales sat motionless, nodded, and started to play emotional Chopinesque chords that could have led to many of his solo piano selections. As soon as he played the first grace notes of Overnight, it was as if you just heard the voice of a dear friend you haven't seen in years – you knew there would be lots of emotion and catching up. The large audience became dead-silent – to the point that it was questionable if there was anyone else in the theatre besides yourself and Gonzales – truly incredible. Overnight had just the right combination of emotional sound and mesmerizing silence – the entire audience was taken on a short journey where you start off in one place and wake up in another. Beautiful.
The Spice of Life
More applause, and Gonzales again maintains his concentration with an appreciative nod. There's a sense that for the opening few songs, Gonzales is letting his music do all the communication as he fades into the background – almost as if a human voice would somehow undermine his music, which is truly beyond mere words. From the first few notes, it was apparent that he was starting in on a raucous version of Oregano. Gonzales' dynamic playing made it seem as if he was just discovering new ways of playing Oregano live on the stage. Oregano is moving, dynamic, and for this live version, has the added benefit of atonal held chords and 'hits' that are really striking versus the lively flow of the song. There's a definite sense of movement underpinned by a funky bassline that sets your head nodding. The composition is bouncy and optimistic, but (like much of Gonzales' music) there are deeper layers. It may convey the optimism and anticipation of scoring some weed, only to eventually find that the bag was filled or mixed with oregano – the final few bars descend, decelerate and end with an almost "aw crap" moment. The "oregano" in my weed concept may refer to life in general as a reminder that things aren't always as they seem. A great bookend to the solo piano "Ooo" overture which had the audience cheering wildly.
Aside: Théâtre Outremont
There a bronze plaque mounted on the outside walls of the theatre that marks its re-dedication and provides a bit of history. What the plaque doesn't convey is that the theatre contains a host of wonderful architecture and design elements, including frescoes that were inspired by neoclassical and Renaissance styles – all due to the involvement of the building's original artistic co-ordinator Emmanuel Briffa, who also designed the interior of the Rialto and other Montreal theatres. There seems to be a critical point in any building's lifespan where people question the value of the building from historical, architectural, functional, and aesthetic standpoints and either upgrade and repair the facility for future generations or tear it down to make way for new buildings.
A Moving Setup
Gonzales explains that it's always emotional for him to play in Montreal (to more applause), and introduces "mes ami" – the Kaiser Quartett, who walk on, politely wave to the audience to acknowledge their applause and promptly take their places to the right of the piano. Gonzales gently starts to play a rendition of White Keys that sticks fairly closely to the Solo Piano II version with one striking difference: When Gonzales strikes the low bass notes, he lets them hang in the air until they naturally decay (over 30 seconds for some). The powerful bass strings impact a resonance on the strings being played and the rest of the piano for a very visceral effect – you can feel the bass in your gut even as gentle notes in the higher registers are played. As the song comes to a close, Gonzales looks towards the Kaiser Quartett as they play a single held note on each of their instruments, resulting in a lovely chord. It's a humourous gesture that speaks to Gonzales' inner rapper: look – he's spent all this money, time, and effort on bringing in a string quartet just to play a single A-minor chord at the end of my song – because he can.
Aside: The Kaiser Quartett
Almost 5 years ago, just after the release of The Unspeakable Chilly Gonzales, Gonzales appeared to be looking for chamber ensembles who could support him while on tour. On tour, he would hire local musicians and dub them, the F–k Luck Orchestra (because, well, f–k luck). For the German leg of his tour, Gonzales connected with a talented group of musicians who called themselves Strings De Luxe. In October of 2013, after a few performer changes, Strings De Luxe became the Kaiser Quartett, with the following line-up: Adam Zolynski (violin), Jansen Folkers (violin), Ingmar Süberkrüb (viola), and Martin Bentz (Cello). All are very talented musicians on their own right, and have a wide range of experience including session musicians, live theatre, soloists, and much more. Gonzales must have sensed that they had skills beyond the other musicians he enlisted, since they became his de-facto chamber ensemble for his Chambers album, The Shadow, a host of radio and television appearances, and as an integral part of Gonzales' Chambers tour. Gonzales affectionately calls them, "The world's most expensive sampler".
The Lie
Between songs, Gonzales often imparts his musical wit and wisdom to the audience – it's one of the reasons why Gonzales' concerts are so special. Here, Gonzales indicates that other musicians lie to you, and the lie goes something like this, with "this" being "C Major", which represents false optimism. Gonzales indicates that he's not going to sugar-coat it; tonight sounds like A Minor, and the Kaiser Quartett proceeds to play the same A Minor chord that ended White Keys.
Breadth of Emotions
With very sensitive dynamics, Sweet Burden off Chambers would seem incredibly difficult to play live, but the rendition Gonzales and the Kaiser Quartett performed stayed true to the album version. Very emotional, the audience was again transfixed in the beauty of the composition and performance. At one point in the song, Gonzales' hands leaped up and down between octaves as if to encapsulate the wide range of emotions that could be represented on the piano. With its wide, encompassing range, Sweet Burden takes us on a journey to discover the high and lows of existence – an absolute thrill to hear live. The song ends with a final glissando and a high trill while the quartet holds high, tense notes that end sharply.
More Leaves
With little pause after the applause died down, the ensemble jumped into a slightly funkier, slightly quicker version of Green's Leaves: a lively track off Chambers. Starting with Gonzales' piano exposition, each of the instruments have an opportunity to "show their stuff", not unlike a mini version of a rock concert where each instrumentalist gets to show off as they are introduced to the audience. In-between the "solo" portions are lovely legato passages that change the overall feeling of the song. With a few final large leaps on the keyboard the song ends to raucous applause and whistles; the audience really seemed to respond to the tempo of the song.
Aside: Joe Flory
At this point, Gonzales introduces longtime accompanist Joe Flory on drums. "Joe is from England," Gonzales explains, "So we should treat him with a respect/hatred that is typically held for our former colonial overloads." Joe is a multi-instrumentalist who also records under the moniker Amateur Best.
Life and Overlords
Gonzales introduces the next song, Odessa, and adds "Speaking of colonialism", which is a reference to Odessa's long history of being ruled from afar with a heavy (and outstretched) hand from authorities in St. Petersburg. Odessa has its musical roots in Gonzales' Re-Introduction Etudes book where Odessa appeared in simplified form. Greatly expanded, Odessa maintains a distinctive "old world Russian" feel, which is expressed with great emotion via the combination of piano and stringed instruments. The live version added another dimension to the song that would be difficult to replicate on a recording. Gonzales' piano seemed to flow more openly with many flourishes and dynamic interaction with the sadness of the strings.
The Original Rapper
Picking up a now-familiar set of bongos, Gonzales starts the next piece with a musical question. He plays a familiar rhythm on the bongos and asks the audience if they know the piece. Someone shouts out, "Beethoven", and Gonzales responds, "Beethoven – exactly. I like to call him LVB." The LVB is a reference to many rappers, such as ODB, XV, DMX, and many others. The sheer and unwavering popularity of Beethoven's 5th (and Beethoven as a trailblazer and artist in general) pretty much makes him the ultimate rapper, hence Gonzales' moniker. Gonzales seals the imagery of the rapper Beethoven with a sung, "LVB bitches," to much laughter. The reference also borrows from rap where a great rapper would call down all the other rappers, since he's at the top of the meritorical pile. Gonzales starts in on Bongo Monologue from The Unspeakable Chilly Gonzales, and adds in "Kai-zer-Quar-tett" to the rhythm of the song. Many pop and rap songs incorporate the name of guest performers in the intro of the song as a method of recognizing their contribution, plus it acts a cue for the string instruments to join in.
The audience was mesmerized as laughed as Gonzales rapped along to his bongos and string accompaniment. During the line, "My brain's f–ked cause my dick is thinking," Gonzales added, "Everyone, sing along!" to a roar of laughter.
Conjuring Spirits
At this point, the Kaiser Quartett made a smooth transition into the beginning of So-Called Party Over There, to which the audience hollered and clapped enthusiastically. Up until this point, the audience seemed slanted towards a "traditional" classical music crowd – overly polite and somewhat reserved (i.e. more Toronto and less Montreal). Right after the musical intro, Gonzales struck some powerful chords on the piano, the proceeded to gesture with his hands as it conjure spirits out of the now-resonating piano. The move was reminiscent of Jimi Hendrix lighting his guitar on fire and gesticulating in front of the burning instrument as if to call out the musical spirit that drove Hendrix. If Gonzales had lighter fluid and a lighter, there's a good chance that he would have tried to do the same to the Steinway. The audience appreciated the gesture and drowned out the harmonics with applause, to which Gonzales smiled and started in on the song. With insightful, witty lyrics and singalong chorus, So-Called Party Over There is a classic Gonzales song made even better with legato strings reinforcing the musical message of single-mindedness and domination. After this song, the audience "loosened-up" somewhat and gave out a big cheer.
Major Pleasure in a Minor Fantasy
With a detached, one-note-at-a-time introduction, Gonzales started in on Minor Fantasy from Solo Piano II. When performed live, it's always a pleasure to hear the wide dynamic range of Gonzales' playing – from powerful deep bass that seems to last forever, to light and fleeting high notes that disappear almost as quickly as they are struck. At one point Gonzales repeatedly strikes a low bass note, building up the resonance and setting the entire piano in motion, just before transitioning to a brief pause and a light-hearted section. For the last few notes, Gonzales strikes a high and low note and lets them play off each other as the audience applauds another brilliant performance.
Aside: Mount Royal Cross
Even religious symbols try to be a "symbol of their time"; in 1924, the wooden cross was replaced with an illuminated 100-foot, 26-ton steel cross as a gift from the Société Saint-Jean-Baptiste. One can imagine what effect this had on the citizens below, as the cross undoubtedly threw its light into the rooms of all citizens – regardless of religious denomination. One Jewish author wrote that the light from the cross through his bedroom window competed with his nightly Shema Yisrael prayers. It's striking that technological progress and changing sentiments transformed a symbolic wooden cross into a beacon of Montreal's largely Catholic population.
Instrumental Pop Music
Gonzales takes to the microphone to explain his logic and approach to updating chamber music for modern ears, much in the same way that he has updated solo piano music. The Kaiser Quartett dives into a few bars of the Beatles' Eleanor Rigby, which proves that all of us have already hear and enjoyed chamber music in pop music. Gonzales rhetorically asks, "Did they invent that?" The answer is no – the idea of a string quartet acting as a rhythm section "chugging" along harks back to Mozart. The group plays an excerpt from Eine Kleine Nachtmusik only to be stopped by Gonzales' "Stop! Stop! Stop!", accompanied by dissonant piano jabs. The issue is that Mozart is too optimistic – the imagery is evocative of prancing naves, and to address this, the music must be played in a minor key. The quartet obliges and Gonzales plays along to a much bleaker version of Mozart's famous song.
Gonzales asks us to fast-forward 100 years to Paris, where a new rhythmic use of strings turned out to be downright scandalous – so much so that it caused a riot. Gonzales asks the audience, "What would it take you to riot? To grab the seats and smash things!" One jokester replied, "The Habs losing to the Sens", referring to Montreal's hockey team losing to rival Ottawa. Gonzales and quartet proceed to play what was so scandalous – dissonant piano and string jabs with accents set to an underlying throbbing rhythm. Gonzales adds, "hashtag teamstravinsky", referring to the composer of The Rites of Spring, which actually caused a riot in Paris in 1913. The audience applauds the demonstration and music lesson.
Gonzales: 40, Audience: Love
Gonzales goes on to say, "These are the musical gestures I had in mind when I wrote the piece called, Advantage Points". With that, the piano quintet quietly started off with dreamy rolled piano chords and pizzicato introduction before sharply laying into a passionate rendition of one of the more well-known songs off Chambers. The striking 'jabs' shake the theatre, while the ethereal legato sections float through the air as if they are levitating. Unlike the album version, Gonzales adds a great deal of ornamentation and powerful playing to the live version, which seems to force the Kaiser Quartett to dig deep into their instruments with their bows. Close to the end, Joe Flory adds a bass beat, which makes the audience realize that this is a hard-rocking song set to chamber music. Loud cheers met the abrupt end of the song, which the performers acknowledged with large smiles and waves of appreciation.
I'm an Expert
"Just to make the Kaiser Quartett feel at home, this next song will be a waltz," explains Gonzales as he starts of the delicate first few notes of Supervillan Music. Curiously, Gonzales initially sings, "I'm a lot of things but a left-wing singer-songwriter, I'm not.", then for the repeated line, he changes it to "I'm a lot of things but a right-wing singer-songwriter, I'm not." Joe Flory comfortably plays along to this version, which stems back to when he played it live in Maida Vale studios for Pete Tong's 20th anniversary celebration in 2011. A huge outpouring of applause erupted at the end of the song, with the audience finally finding its "Montreal" spirit. So much so, that Gonzales replayed the end of the song just to re-hear the cheers, which were deafening at this point and led to a standing ovation. Gonzales and the Kaiser Quartett stood up and took polite bows when Gonzales announced that, "We're all going to stand up for this next one."
Brahms' Grudge
Everyone seemed to enjoy standing for a change, even though it looked tricky for Martin to brace his bent knee against his now-upright cello (he still sounded fantastic), and Gonzales to reach the pedals, which were now tucked way under the piano in relation to his tall frame. The chamber intro was lovely, and reminiscent of chamber music by Faure or other post-Romantic composers. Gonzales dedicated The Grudge to Johannes Brahms, who held a lifelong grudge against Richard Wagner (the music and the man). Brahms went so far as to write a manifesto against the "excesses" of Wagnerian music. The lyrics of The Grudge drew a great deal of laughter from long-time and new fans alike. At the end, Gonzales slowly plays ascending notes – and at the end indicates, "You may be seated." to yet another outburst of applause.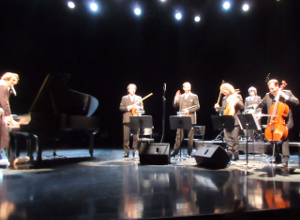 Kaiser Quartett: The art of the possible
At about the halfway point of the concert, Gonzales proceeds to demonstrate some "unorthodox" stringed instrument techniques through the skilled hands of the Kaiser Quartett. First up is Martin on cello, who proceeds to demonstrate pizzicato on his cello, which Gonzales likes because of the very soft, simple notes that the effect produces. Next is Ingmar on viola who demonstrates tremolo, which should strike fear into the hearts of the audience. "Scared?" Gonzales asks. Then it's Jansen's turn to demonstrate a technique called flageolet, also known as false harmonic, which Gonzales likes as it's a play on musical words – as if the harmonic itself is somehow lying to you. Gonzales demonstrates the concept of 'deceptive cadence' on the piano, which is another term that appeals to Gonzales' sense of "questioning the motives of music itself". Jansen plays a beautiful glassy false harmonic, which seems to emanate somewhere outside of his violin. Gonzales even asks Jansen to, "send one over there, and over here." Adam on 1st violin demonstrates a technique called ricochet, which consists of letting the bow bounce freely on the strings as it is drawn. It's a somewhat comical effect that Gonzales likens to, "the sound the greedy mouse makes when it gets the cheese – hehehehehe." Finally, Gonzales asks Joe for a tom fill, which Joe plays in a Phil Collins In the Air style. Gonzales indicates that it's definitely a tom "Phil". Gonzales asks the musicians to put all the effects together in sequence, which draws big laughs from the crowd. The demonstration of techniques will be revisited again later on in the concert, but for now, Gonzales moves to something more familiar.
Dynamic Dot
"Do we have some Solo Piano I fans here tonight?" Gonzales asks the crowd, as he starts on his now-classic Dot. In this version, the chamber musicians start by miming the piano, then harmonizing and joining in. With a dissonant, decaying stab of the piano, Gonzales waits, then starts in on the live, dynamic version of Dot. The strings play the melody, while Gonzales explores themes on the keyboard, cumulating in a lovely legato string passage set against Gonzales powerful playing. Eventually, the strings play solo and Gonzales joins them one last time for a wonderful flourish. Dot has been a concert stable for Gonzales for over 10 years, and it's always surprising how versatile it is, regardless of instrumentation.
Floating in the Dark
After a long applause, Gonzales asks that the stage and house lights be dimmed lower and lower until the entire theatre is immersed in total darkness. At this point, the musicians are playing Armellodie by muscle memory as you can't even see your hand in front of your face – let alone their instruments. It's a wonderfully immersive experience, somewhat akin to floating within a sensory deprivation chamber. It's and ideal time to let your mind wander and open up to new thoughts and dreams. This was truly a novel experience for any concert, and the audience was deeply moved by the beauty of the musicians. Close to the end of the song, Joy Flory joined in on trumpet to lend a Jazz flavour to the composition. A great move by Gonzales, and one which people are likely replicating at home.
Lesson: Arpeggios
For his next music lesson, Gonzales demonstrates the profound effect that arpeggios have had on music. An otherwise ordinary and lifeless chord is turned into dynamic and living music with distinct notes and a sense of rhythm and movement. "l'arpège is forever," Gonzales states in his nightly mix of French and English. His statement alludes to the fact that people's ears and brains aren't going to change anytime soon. We have a psychological and physiological preference for arpeggios – they somehow awake portions of our brain that we respond to, and musicians just have to accept and take advantage of this fact. Gonzales plays a selection of famous arpeggios and points out, "It's the arpeggio that makes you want to dance." When Gonzales plays In the Mood by Glenn Miller without the arpeggios, they sound like slow, dull, lifeless chords, which draws laughter from the crowd.
I, Human
Gonzales states that they will try to play their song with arpeggios called Prelude to a Feud like robots, but they will fail because there is a digitized metronome behind the music we hear today, which is an unattainable goal. He adds, "But therein lies the poetry of a human trying to be a robot." That's a fantastic line. Since the industrial age began, we've been moving towards a robotic ideal, which is seen as exacting, relentless, perfection – something that is unrealistic as humans. Instead, Gonzales turns the tables and asks for us to see (and hear) the beauty of humans attempting to achieve this exacting perfection. The tiny errors – being off key or off tempo, coming in late or early and even hitting a 'wrong' note all add up to create an endearing feeling of humanity. Long ago, Italian musicians came up with the concept of "rubato" – which literally means "to steal" to indicate how music should be played. Rubato "steals" time from other notes and bars of music to inject variability into a performance rather than exacting perfection – which was far from computer-perfect to begin with. For one night, Gonzales and the Kaiser Quartett have the best kind of quantization and pitch errors – the human kind.
The live performance of Prelude to a Feud starts of with Gonzales' dreamy piano arpeggios, softly accompanied by strings, which grow more and more prominent as the song progresses. The song changes into a stately march with a core motif, which the string players mimic in harmony. Then all hell breaks loose as the strings re-create the piano arpeggios while Gonzales play the stately motif. Then, the entire piano arpeggio is re-created on strings with each string instrument playing 3 or 4 notes in ascending and descending sequences (cello, viola, violin 1 and violin 2). Gonzales then switches to a 'funky' piano line while the strings play the motif, finally cumulating in a wonderful ascending sequence. An amazing performance that truly underscored Gonzales' original statement – there truly was poetry in five humans trying to be a robot. The crowd cheered and hollered loudly for an extended applause session.
Twice-Removed
With little hesitation, Gonzales jumped into the piano-heavy intro to Smothered Mate off of his Ivory Tower album. In this version, all of Boys Noize's electronic beats and synths were replaced by analog instruments for a wonderfully organic version of the song. The playing was passionate and all of the players were cutting into their instruments to keep up with Gonzales fast-moving piano lines. A unique and very well-performed take on a stellar and pivotal track from Ivory Tower. With that, the audience decided to stand-up and give another extended applause session to show their deep appreciation.
Canadian Campfire Songs
Lucky for us, Gonzales included his classic Singalong song to show his Hamburgian friends that Canadians really learn how to sing songs around the campfire. A concert favourite, then audience sang along perfectly while Gonzales and the other musicians played along in a bluesy and classical style. Gonzales' 'sad' version (now even sadder with strings) was used as intro music to his From Major to Minor video (included with the deluxe version of Solo Piano) is especially poignant. But sadness is usually followed by elation, and the entire theatre was humming with optimism as everyone belted out the best singalong that I've heard to-date. "Merci Montreal!" Gonzales exclaims as he hammers on the piano and makes his stage exit to another thunderous standing ovation, which goes on for a minute before the musicians return for an encore.
Make Like Dorian
"I said I was a musical genius." starts off Self Portrait – a fantastic track off The Unspeakable Chilly Gonzales. The chamber version is wonderfully powerful in its own right, replete with witty historical and cultural references, Gonzales' lines drew laughs from the crowd. Ending on a single note, the audience was re-invigorated and screams with pleasure.
I am (not) a Musical Genius
Gonzales provides some insight on his "musical genius" moniker, explaining that he originally started adding "musical genius" after his name to see how people would react and if they would believe it. "Looking back," Gonzales describes, "it would have been nicer if I would have waited for someone else to say it." followed by a huge laugh. Gonzales describes how the reporters started writing "self-proclaimed" in front of musical genius ("they got me!"). Gonzales has written a new song to proclaim that he is a musical genius in his fantasies. "Franz list wasn't actually possessed by the devil, but he wanted to be – and it was more fun for the audience that way." The title for this song is "I am – open bracket – not – close bracket – a musical genius." The song uses the stringed instrument techniques that Gonzales and the Kaiser Quartett demonstrated earlier (pizzicato, tremolo, false harmonics, and ricochet), all backing Gonzales' lyrics underscoring that he's not a musical genius. The composition is pure genius – at one point, the string section wanders off key and Gonzales comments – "see?" which draws laughter and a big round of applause.
All the Knight Moves
"What would you guys like to hear?" is a now famous line from Gonzales' concerts. He seems ready to play anything from his repertoire, but someone shouts out Knight Moves. "We can do Knight Moves," Gonzales adds, and provides some insight into the version he's about to play. Gonzales originally composed Ivory Tower songs on the piano, which his good friend Boys Noize turned into "bangers", which are now being turned back into versions that employ chamber instruments, "So this is Knight Moves – twice removed." Gonzales has previously toyed with approaching songs from a different perspective to create something beyond a remix or extended version. Gonzales cover of Too Long by Daft Punk was conceived as an "original" 1970s version that Daft Punk decided to cover (a brilliant approach), and the re-worked songs off his "Z" album were approached as versions he would have written if it were his retirement from the music industry. Knight Moves is dear to people's hearts, so it's a bit dangerous to toy with the essence of the song, but here, the chamber section adds another dimension – especially Martin's dynamic cello playing to pick up the low end of the octave range. The violins also hum along and provide a continuity that the piano simply cannot physically replicate. Joe's drumming picks up when Gonzales digs into the funky bass end of the song. Then Gonzales sets out on a mission to start the entire piano in resonance through powerful mid and low pressure. Once the frame is set in motion, the strings gradually return in arpeggio and pizzicato form and slowly start "rebuilding" the melody, which comes together for the synchronous final chords and final piano resonance, which is only halted when Gonzales lifts his foot off the sustain pedal.
Cello Gonzales, Au Revoir
As Gonzales thanks the audience and announces the members of the band, all of the musicians bow and make their exit to another standing ovation, which goes on for another minute, at which point Gonzales re-appears with Martin. Gonzales explains that next song (Cello Gonzales) is a piece written for piano and singer, but the singer in this case is replaced by the emotion of a cello. Martin's wonderfully deep cello contrasts against Gonzales' metronomic backing rhythm, which then shifts to a lilting piano melody that mimics the cello melody. Piano and cello then join and separate in their respective parts as if they are within an elaborate dance. Again, Gonzales explores the entire keyboard range with leaps of emotion, before harmonizing with the cello one last time. Huge applause goes on and on, along with "Gon-za-les" chants, but the audience's efforts will be rewarded on Gonzales' next visit as the house lights are raised.
Faith and Salvation
In 2008, Mount Royal Cross was renovated and converted to a new lighting system; 158, 18-LED polychromatic bulbs were added to allow the cross to glow in any colour imaginable. A sacred symbol of Montreal joins the 20th century with technology borrowed from the billboards that adorn stadiums and the streets of Las Vegas. But these changes to sacred symbols embody a larger concept: Keep up with change or become buried or an irrelevant historical footnote. The cross became a "cross of its time" just as the Théâtre Outremont was salvaged and updated to serve the needs of the citizens of Montreal; not as a cheesy dinner theatre, but as a modern facility that preserves and pays homage to the past while looking forward to the future.
St. Joseph's dream palace may have towered over Gonzales' childhood home, but he left its shadow to grow and create his own vision. That night back in his hometown of Montreal, inside of a beautifully restored theatre, Gonzales laid his hands on the heart of chamber music and lit up polychromatic LEDs that illuminated the face of music in a million colours. When the music rose to its feet, the audience rose to join it; chamber music handed Gonzales its cane. It didn't need one anymore.