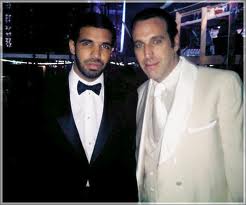 It's fascinating that Gonzales was unknowingly part of Drake's musical universe prior to Drake becoming a critically-acclaimed rap entertainer. With the inclusion of one Solo Piano song on a mixtape, Drake set a chain in motion that resulted in a wonderful collaboration between the two entertainers. If Drake's recent tweet is any indication, that collaboration is set to continue: he's amassed a talented crew to produce and record his fourth album (titled: "Views From the 6″), and Chilly Gonzales is included in the list:
@Boi1da @ovo40 @chillygonzales @Vinylz @PARTYOMO @DjDahi @iLoveMakonnen5D

— Drizzy (@Drake) October 6, 2014
Back in August, Drake released a snippet of the album's title track, which doesn't appear to have any apparent "Gonzales" sounds, but does have a minimal feel with an emphasis on hi-hats and an airy background synth. There's no doubt that Gonzales' killer harmonic sequences will end up on the final album, but until then, here's a synopsis of how Gonzales and Drake connected and what they've created to-date.
The Mixtape
Recorded in 2008 and released in February of 2009, Drake's "So Far Gone" 18-track mixtape was critically acclaimed and essentially launched the careers of Drake and his producers (Noah "40″ Shebib, Boi-1da, and T-Minus). The mixtape samples from artists as diverse as Tears for Fears, Billy Joel, Lykke Li, Kris Kross, and Coldplay. Track 16 ("Outro") "samples" Gonzales' song "The Tourist" (at 36:19 into the mixtape).
As Gonzales puts it, it was more than a sample – it was the entire song with the pop of a champagne bottle added. Keep in mind that mixtapes are not sold, but rather given away for free, which means that the artists sampled on the mixtape generally do not follow-up with lawsuits (even though from a legal perspective, sampling a song for a mixtape is a violation of copyright laws). Gonzales has certainly professed his love for rap music, and being included on Drake's mixtape could simply be viewed as an honour – regardless of how Gonzales felt having his song essentially 'lifted'. Drake was on his way to rap superstardom, and the fact that Drake enjoyed Gonzales' music could have been satisfaction enough, but by good fortune, Gonzales was able to meet Drake through a personal connection.
Condo Meeting
By 2010, Drake had moved into a condo in Toronto, and was enjoying stellar sales of his singles from the mixtape and his "So Far Gone" EP, which by then had reached Gold status and very positive reviews. By chance, Gonzales' father lived in the same condo, and it was one night in 2010 when Gonzales was visiting (or at a party in his father's condo) that his father called Drake to invite him up. As Gonzales told a Toronto solo piano audience of his encounter, Drake was "Bill Clinton"-level charming, and Gonzales played Dot on his father's piano at Drake's request. Drake indicated that he was a fan of Gonzales and that he'd like to work with Gonzales.
Contributions
The first public appearance of Gonzales and Drake was at the Juno awards (the Canadian equivalent of the Grammy awards) in Feb 2011. Drake and Gonzales practiced a comedy/nightclub routine, which went very well.
After the practice sessions, Drake asked Gonzales to listen to some tracks in-progress that would end up comprising Drake's "Take Care" album. Gonzales reacted to "Marvin's Room", and Drake asked Gonzales to play an emotional outro to the song, which ended up on the album. Finding out how Drake and his producers develop new songs must have been fascinating – Gonzales first played the outro to "Marvin's Room" as a 'warm-up' on a digital synth, fully expecting to have a 'proper' piano to re-record any ideas that Drake and his producer like. As it turned out, the 'warm-up' version of the outro was the one they liked the best and eventually made it onto the album. Drake liked the outro so much that he mentioned Gonzales in a tweet about it. Gonzales did eventually follow-up and record a solo piano version on a 'real' piano.
Gonzales also contributed to the "Good Ones Go Interlude" on the same album. The piano in "Good Ones Go Interlude" came from a longer improvisational session where Drake's producer (Noah) recorded and played with Gonzales' piano harmonies on the fly. The resulting four chords are what made it onto the song and album.
After the Marvin's Room sessions, Gonzales had time to compose with Drake and Noah and came up with a number of ideas that required further exploration. Gonzales, living in Germany, sent Drake recordings of elaborations from the sessions. One of the ideas Gonzales sent eventually formed the main motif for "From Time", on Drake's album "Nothing Was The Same". At the time, Drake tweeted that "From Time" might be his new favourite song.
40. Gonzales. Jhene Aiko. Might be my new favorite song. @JheneAiko @chillygonzales @OVO40

— Drizzy (@Drake) August 9, 2013
Gonzales' piano (switching from low to high octaves) drives the emotional mood of the sparsely-populated song.
Between recording and collaboration sessions, Drake (apparently) attended one of Gonzales' Solo Piano concerts (we reviewed the show), and Gonzales also analyzed Drake's "Hold on, We're Going Home" from Drake's "Nothing Was The Same" as part of his Music Masterclass analysis series.
Influence
Hip-hop and rap have had a long history with sampling classical music, or including string sections in songs. Gonzales' work with Drake goes beyond the formulaic violins or powerful orchestral accompaniment. Gonzales brings personal emotion to Drake's songs, and Drake is careful to use just the perfect mix of emotion on his albums. Gonzales' contributions have not gone unnoticed, as many other rap and hip-hop artists reach out to Gonzales, or seek their own "emotional sound". By working with Gonzales, Drake has introduced Gonzales' lush harmonics to an audience that more than likely have never heard of Gonzales or his music – which is excellent news to all Gonzales fans.
We'll have to wait until Drake's next album is released in 2015 to listen to Gonzales' contributions. As usual, we probably won't have any hints until just before the album is released, but Gonzales and Drake both lived in Toronto, and if the "6″ in the album title refers to common digit in Toronto's area codes, then they'll have a common reference point from which to draw inspiration. Toronto is a multicultural, industrial, and financial city – all interconnected by a vibrant and cerebral culture. In a way, this also describes the rap and hip hop that is borne from the people who call Toronto home. With Drake, Gonzales delivers some of his hardest-hitting emotional piano – we're looking forward to hear the results.