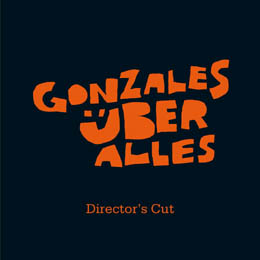 Gonzales has created a mish-mash of beats, samples, pop melodies and harsh tokes that sticks in your head, sticks to the wall, leaves a mess on the floor, makes long distance phone calls and never does the dishes. You need fun friends like this.
- James Keast – exclaim.ca (2000)
Über Alles signals the imminent rise to world domination of a major talent. Twisted pop genius.
- Dave Stelfox – spannerd.org (2000)

When Gonzales' debut full-length album was released on February 25th, 2000, critics were left trying to piece together a complicated puzzle. Each piece contained a small snippet of a much larger story: transplanted Canadian, Berlin-based prankster-rapper, disillusioned artist, hyperbolic entertainer, talented musician and so on. With all the requisite pieces in place, an image of a new musical force emerged: Chilly Gonzales. Convinced that people were completely missing the "message" when music was allowed to speak for itself, Gonzales ensured that his music would have a controversial and egomaniacal representative: a hip-hop supervillain hell-bent on musical domination. Critics wondered aloud if the music lived up to the hype, with some concluding a resounding "no", while others able to look past the persona and see the results of a professional hard at work. Looking back, it's easy to see the genius who would eventually be exposed to a much larger audience.
By the end of 1998, Gonzales was set on aligning himself with musicians who shared his vision: musical accomplishment, entertainment value and humour – values he maintains 15 years later. The myth of the authentic artist had to be dispelled, and the only way to achieve that goal would be success in Europe through hard work, musical mastery and showmanship. On November 22, 1999, Gonzales released an EP titled "O.P. Original Prankster". Three of the four tracks on the EP would eventually end up on Über Alles: "Past Your Bedtime", "The Worst MC", and "Let's Groove Again". Unbeknownst to the public at the time, Gonzales had previously submitted a full-length album – "Red Leather" – to Warner (who he was signed to at the time), which never saw the light of day. Two of the tracks eventually escaped: "Red Leather" was released as a single under "Peaches and Gonzales", and "Let's Groove Again" was included on the EP and Über Alles. The EP did not go unnoticed; one NME reviewer was impressed with the four tracks and liner notes, which read:
This record was made possible by the apathy and spinelessness of many individuals, too numerous to name here. For a complete list of these weak and terrified motherf–ers, send an SAE to Kitty Yo.
The EP and liner notes were just a taste of what was to come less than four months later (just before Gonzales' 28th birthday) when Über Alles was released. The thirteen tracks on Über Alles varied in musical style: from electro to jazz to hip-hop and even classical. The short, jazz-influenced solo keyboard songs are especially poignant, and provide an interesting intro, intermission, and ending to the album.
The Title
All of the tracks within Über Alles are worth a closer examination, but the first item of interest is the album's title. Sometime in the late 1990s, Gonzales moved to Europe and settled in Berlin. As he raps on "Higher Than You" off "The Entertainist", he "needed a press new angle," and being Jewish in Germany ought to do it. Almost exactly 200 years before Gonzales ended up in Berlin, the Austrian composer Joseph Haydn wrote an anthem for the birthday of Emperor Francis II of the Holy Roman Empire. In 1841 (44 years later), the German linguist and poet August Heinrich Hoffmann von Fallersleben wrote the lyrics of "Das Lied der Deutschen" to Haydn's melody. These lyrics turned out to be controversial – on two separate occasions, but for essentially the same reason.
The refrain of the first stanza is, "Deutschland, Deutschland über alles" (literally, "Germany, Germany above all"). The phrase was meant to point to the need for loyalty to a united Germany, since (at the time) Germany was a loose association of 39 German states, but instead was adopted by revolutionaries as a symbol of the March Revolution of 1848. The refrain inflamed the princedoms of the German states, which they took to mean militant conquest of their state and amounted to high treason.
The second group to adopt the lyrics for their own purposes was the Nazi regime, who used the refrain to drum up loyalty to Germany with the intent to carry out a military conquest of foreign countries. Eventually, the first refrain of Das Lied der Deutschen was banned along with other symbols of Nazi Germany.
By using the term "Über Alles" for his album, Gonzales is able to "reclaim" the phrase and use it for his own humorous purposes – a point made especially poignant as a Jewish person living in Germany. Gonzales "above all" is also a statement that aligns with the aggrandizing style of rappers – sort of declaring yourself "king" of the musicians (around the same time, Gonzales was also trying to claim the title "President of the Berlin Underground"). Lastly, Gonzales Über Alles nicely rhymes and has great alliteration. Overall, a brilliant title that works on many levels.
Versions
There have been a few versions of Über Alles over the years, but most can be grouped into two broad categories. After the EP, the original album consisted of 13 tracks:
1. Chilly In F Minor
2. Real Motherf***in' Music
3. The Worst MC
4. Let's Groove Again
5. Why Don't We Disappear?
6. Gringo Star
7. Walked For Hours
8. Chilly In Bb Minor
9. Clarinets
10. Love Scene
11. You Are
12. Past Your Bedtime
13. Chilly In D Minor
While a "Director's Cut" version released on September 6, 2010, removed "Past Your Bedtime" and added two tracks: "Cover Him With Love", and "Erotobot".
The Songs
Chilly In F Minor
Chilly In Bb Minor
Chilly In D Minor
In retrospect, these three tracks were a defining moment for Gonzales, but they almost didn't make it on the album. Possibly within the time between the EP and release of Über Alles, Gonzales made a last-minute decision that would have a great influence on his music over the next 15 years. In his own words:
Chilly in F Minor was the first song on my first album, and this was important – that the first song on the first album be something very musical – very simple. I had bought this strange instrument called the Pianet, and I already had the idea that because this album was so electronic and hip-hoppy, I felt like, well – in the end, I'm just a piano player, but I don't want to go out there and just say I'm a piano player, but I felt like people had to know that about me. So at the last minute before the mastering session, I managed to crank out these three little songs that are on the album – sprinkled throughout: Chilly in F Minor, Chilly in Bb Minor, and Chilly in D Minor.
Aside from all the showmanship associated with the Gonzales persona, these three brief compositions may have uncovered a truth within Gonzales that he may not have been willing to admit during his early career. Over the next few years, the "piano player" within Gonzales made its way towards the surface, eventually resulting in the release of Solo Piano. In interviews, Gonzales points to these tracks to highlight that his need to define himself as a piano player has been there right from the beginning.
The choice of a Pianet instead of Gonzales' now-standard upright piano is an interesting one. The Pianet is an electromechanical instrument that uses small metal reeds to produce its unique sound. These reeds are set in motion by being 'plucked' much like a harpsichord. In fact, the original design was intended to be a portable harpsichord. The vibration of the reeds is passed through an amplification circuit (via an electromagnetic pickup), which can then be modified somewhat to shape the resulting sound. The model Gonzales likely used was the "Pianet T", which has a softer, jazzier sound.
The sound of the Pianet is not what one would call 'pure', although it is complex and has a very warm feeling. The three recordings do not try to hide the mechanical noises, which add to the intimacy of the recordings – much in the same way Gonzales uses an upright piano in subsequent recordings. If Gonzales used a piano for these recordings instead of the Pianet, the contrast between these three tracks and the rest of the album may have been too great. The electronic sound of the Pianet provided the warmth and intimacy required, while still being able to blend in with the rest of the album. Gonzales has performed an energized version of "Chilly in F Minor" live on piano to great effect. Here's a live clip from Wien in 2002:
Chilly in F Minor – Live in Wien (2002)
And one from his World Record breaking performance:
At the very end of "Chilly in F Minor", a distorted voice heralds the arrival of "Chillyyyyyyy Gonzaleeeeeeeees" with a primal-type scream. The voice bridges the gap between the smooth tones of the Pianet and the electronic beats and samples of the second track in much the same manner that Gonzales bridges the classical and pop worlds. By prepending "Chilly" to song titles, he seems to be defining himself through the personification of the jazz-influenced tracks. For Gonzales, his instinct to include these three defining tracks proved to be the right one.
For those who like to tinkle the ivories, Gonzales has made sheet music for "Chilly in F Minor" available for online download, or within his Solo Piano Notebook Volume 2 (available at his online store).
Real Motherf***in' Music
Oddly enough, the second song on the album is largely instrumental as well, with Gonzales remaining suspiciously silent, almost building up anticipation the same way wrestlers use intro music prior to their appearance. Feist's lovely tonalities are present, although they are mere phonemes of speech, seemingly cut from a longer vocal; all we are allowed to hear are "oh", and "eeeeee".
The initial pounding beats and pulsating bass give way to a warm string synth with a slow attack, creating almost a 'reverse' sample effect. Add in FM bells and Feist's snippets and the overall effect is a lush soundscape juxtaposed with a 4/4 pounding dance club beat.
The title refers to 'Real' music, which is an interesting choice, since most opponents of electronic music claim that synths lack the warmth of 'real' instruments. The Motherf***in' part of the title is meant in a formidable sense – again, as part of the hyperbole found in the rapper's dictionary. The song fades with vinyl crackle and Feist uttering a final "eeeee" before giving way to the next track.
Aside: The Mixing
At this point, it's worth mentioning the mixing of Über Alles, which was in the expert hands of Chrispect, a.k.a. Christophe Beck – Gonzales' older movie soundtrack-producing brother. For a self-produced album released almost 15 years ago, the mixing quality is much better than one would expect. This is largely due to the skill and experience of Christophe, who obviously has amazing talents with selecting where, when, and how instruments and vocals should be placed and heard. He also (obviously) intimately knows the intentions of his brother as far as what sort of musical message Gonzales want to convey – something that is rare when working with mixers (and mastering staff). Truly a professional at work, Gonzales couldn't have chosen a better co-producer and mixer. Christophe is currently receiving accolades and awards for his incredible work on Disney's Frozen.
The Worst MC
Originally included on the EP, "The Worst MC" is the first track on the album to feature Gonzales' vocals, which mockingly ask the rhetorical question "Who is the worst MC?" The track opens with an airy harp – a sample from jazz harpist Alice Coltrane, who was married to jazz great John Coltrane. Normally, including a jazz harp in a sample wouldn't elicit images of a 'badass' musician, but by including this sample, Gonzales may have been giving us a hint of how deep his musical knowledge runs.
The main synth pushes the other sounds out of the way and ends up front-and-centre as a thick, buzzing, bass that is anything but subtle – possibly a representation of a self-centred rapping persona. Rap samples are strewn throughout the song, representing potential competitors in the rap contest to find out who is the worst MC. A 'laughing' or 'mocking' synth sound appears from Wolfstein's "Repetitive Behaviour", which adds to the self-depreciating theme – one which Gonzales has explored on many songs.
Close to the end of the track, the breakdown gives way to a series of held strings, which are then pushed away by an auditory assault of the artists vying for the Worst MC title. The assault fades away, and the strings rest and fade on another vinyl groove. The main refrain indicates that "Everybody cannot be the best, everybody cannot be the dopest, flyest artist", which then begs the question – "Who is the worst MC?" It's possible that Gonzales knows that there's entertainment value on both sides of the spectrum; the 'worst' at anything seems to garner as much press as the 'best' at something, and recently, the 'worst' seems to attract even more attention (and free publicity) than the best. People seem to be attracted to failure for many reasons, but if you can leverage that failure into publicity, then you've truly beaten the system. In this light, the worst MC doesn't seem like such a bad place to be, and maybe the worst is truly the genius.
Let's Groove Again
A gong hit leads off this iconic track, which quickly moves into a wandering soft organ melody. Gonzales' deep musical knowledge again comes into play here – the central theme was derived from classical music. In his own words:
This was based on a Shostakovich string quartet – I'm going to sound really pretentious here, but the chord sequence is ripped off – as many of my musical idea are ripped off – from people who are dead and can't sue me anymore. Shostakovich is dead – he can't sue me. So it's open season on Shostakovich chord progressions.
The main theme provides a base on which the rest of the song is built. Gonzales wanted to be a 'man of his time' right from the start, and nowhere is it more evident on the album than on Let's Groove Again. Updating a classical theme by incorporating it into a wonderfully catchy song is the single best way to keep classical music alive and relevant to a new generation. Unfortunately, most artists do not adapt classical themes as deftly as Gonzales.
Let's Groove Again was included on the lost "Red Leather" album and the EP, and was updated and remixed for the Über Alles album. Gonzales' long-time musical cohort Peaches provides the accompanying vocals, which revolve around a central theme of a 'final fling' before moving onto another stage of life. As this was likely written prior to Gonzales (and Peaches) leaving Canada, the main theme could also be interpreted as Gonzales' "farewell" – to his home country, residents, and his former artist self. References to being "overseas" and on the "river Seine" drive this point home (Gonzales apparently stayed briefly in Paris before settling on Berlin). "The worst of friends is how the best of times will end" may also underscore the bitter taste of being rejected by his own country after years of trying to fight his instinct and fit in as an accepted 'artist'. But "let's groove again" may also be a hope for the future – kind of a promise that one day, Gonzales will be back in Canada and accepted as the entertainer he always knew he had to be.
Why Don't We Disappear?
The French-influenced sound of "Why Don't We Disappear?" is set straight away with the inclusion of a melodica -based theme. Gonzales plays the melodica (another reed-based instrument) with melancholy expressiveness. First used in the early 1960s by artists such as Steve Reich, the sound of the melodica has become a favourite of countless artists – including Gonzales, who has used it on many tracks. The warmth of the melodica is set against a relentless drum-machine, which beats out a marching rhythm. In the background throughout the song, Gonzales includes a lush piano accompaniment – the first overt piano appearance on the album. During the main chorus, a strumming guitar is set against a looped guitar sample.
The main vocal is provided by Sticky – also known as Rebecca Henderson – a Canadian indie singer and bass player. Sticky came to prominence in the early 90s, and eventually joined forces with Merrill Nisker (Peaches), Dominic Salole (Mocky) and Gonzales in a band called "The Shit". Sticky's vocals in "Why Don't We Disappear?" sound incredibly genuine and vulnerable – as if she truly wants to run away and disappear with the person she is pleading with. Gonzales joins Sticky halfway into the song, singing "I'll be missing you" with a disembodied characteristic, only to return with mournful "ya ya"s at the end of the song when the mood changes to slightly more optimistic – as if there's a great life beyond the wonderful experiences these two characters have shared.
Lyrically, the song paints a picture of someone who no longer sees life in the same way they used to because of events that will happen in the near future ("soon things will come to pass"). The character, powerless at the actions of another, implores the object of her desire to run away, otherwise she will just wait patiently for this person to change their mind and return ("seasons won't change my mind"). In the end, we have the impression that their relationship is all but over.
At the very end of the song, way in the background, wonderful piano chords and flourishes enforce the optimistic ending – sounds that would become synonymous with Gonzales' future sound. For her part, Sticky has since gone on to marry and settle down in Canada, and recently released an EP of her own songs.
Aside: The Design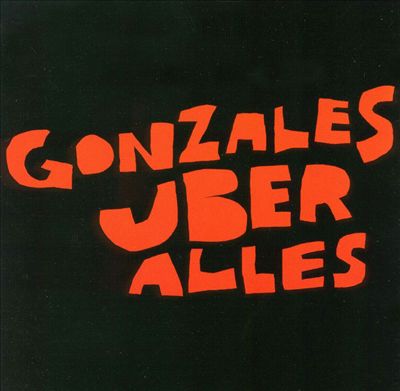 Angela Lorenz, the graphic designer for the album is a specialist in typefaces and established herself as a go-to artist for electronic underground labels in Germany since 1998.
For Über Alles, Lorenz went with a minimalistic orange distorted font on a black background. The odd, mismatched, and slanted font lends playfulness to the cover, combined with a crude ransom note notion. The letters are block filled, as if the designer couldn't be bothered to cut out the centre, which only heightens the impact. The original version of Über Alles opted to leave out the umlaut, which was added for the Director's cut. Orange was an important colour for defining impressionist and post-impressionist painters such as Monet, Renoir, Toulouse-Lautrec, and especially Van Gogh, who used the colour orange extensively. Orange naturally has a high visibility; especially on a black background. The end result it striking and certainly stands out amongst other covers.
Gringo Star
This track starts off with a low, almost distorted bass line set against a looped sample from Shannon's "Let the Music Play". The bass drum and organ kick in and settle down and sink in, giving the overall track a very hip-hop feel. Layers of sounds are added after that – soft sine noises, and a flute synth, finally giving way to some famous spoken-word advice from Gonzales a la William Burroughs. Gonzales, being a very open entertainer and habitual educator, more than likely passes along advice that guided him over the years. Gonzales did have one change to his original message, as he told PlayGround Magazine's Kier Wiater-Carnihan in an excellent 2013 interview:
Kier: There's a lyric on 'Gonzales Über Alles', well more of a rant really, where you tell people to "write a fucking melody for once". Do you think that melody is undervalued in modern music?
Gonzales: I would revise that to say that harmony is the most under-used part of modern music, and gives me my most distinct advantage because it's something that has the most emotional effect but definitely requires some training to deploy properly. So if anything I would say harmony has become my main lane of music. If there's a distinct Gonzales sound, whether it's one of my electronic songs or a solo piano song, it probably has something to do with the harmonic story being told, that I specialised in when I was studying music and have since realised really is my secret weapon, if I have one. Along with my sense of humour, probably harmony is the thing that gets me paid and gets me across the most.
The rest of the 'rant' is equally informative, and implores people to take the business of succeeding at entertainment seriously. The rant can certainly be applied to non-musical objectives as well. In its entirety, the 'rant' is:
Yo, this is Chilly Gonzales…telling you music is mind-control – don't fuck around with it unless you've got the skills. Take piano lessons, smoke grass, freestyle with your friends, talk about your enemies behind their back, analyze my tracks, try to write a fucking melody for once, and quit being such an indie snob pussy.
Music really is mind-control to a certain extent, as Gonzales has mentioned over the years – he expertly uses humour to open up your mind and accept his musical harmony payload. Gonzales also indicated that he and his brother used to 'disassemble' their favourite songs to find out what made them so great. This deep musical understanding and appreciation, combined with formal training and education allowed Gonzales to view music differently: "I like everything musically, I also hate everything musically – it's beyond like and hate."
The title "Gringo Star" is obviously a play on "Ringo Starr", but the Gringo moniker can also relate to an outsider – especially an outsider with a name like "Gonzales".
Walked for Hours
The scratchy vinyl loop and minimalistic instrumentation of "Walked for Hours" creates a sense of space that is only broken by the twang of an electric guitar and Gonzales' singing. The prayer-like chant that repeats throughout the song sound is like a sample from Josh Dolgin's (Socalled) extensive collection of eclectic records. A muted trumpet (played by "Rossano") provides a jazzy interlude. Finally, Gonzales sings the refrain as if he has literally walked for hours, holding the final note until his voice practically gives out. As the song fades, piano chords are joined by whispering voices and a final symphonic sample.
This song may also refer to a pilgrimage from Canada to Germany: "I made it though – so did I – so did you." It's unclear if the "you" is a listener or another musician.
Clarinets
Jazzy trip-hop samples combined with piano hits kick off this track, which may be another example of the musical transformation Gonzales was after, namely making jazz relevant and accessible to the next generation. Feist provides crisp, sweet vocals in the form of light varying tones underscored by a mellotron-like flute sounds. Finally, a single clarinet enters, played by Martin Van De Ven (who is listed as Martin Vandeven on the credits). Martin is an accomplished clarinet player specializing in klezmer music, and is sought after for film, television, theatre, and dance productions. The klezmer influence is apparent here, as the melancholy clarinet plays the main melody, eventually joined by a second clarinet and what sounds like a melodica run through a processing unit.
By this point, many critics were wondering how light, jazzy tunes such as this one were going to "dismantle music", as Gonzales put it. To some degree, they were right; Clarinets, while beautiful, doesn't align with the bravado of the Gonzales persona, but sometimes it's a much larger risk to put a song such as Clarinets, which merges several music styles, then merely adding another over-the-top tune to the pile. Songs like Clarinets age well, which could just as easily have been released yesterday.
Love Scene
With a Glockenspiel and guitar intro, Love Scene initially feels closer to Gonzales' previous work, but the soulful longing of Coco Love Alcorn's vocals update the sound completely. Coco's voice sounds like a lover's call which is only answered by a gentle sine wave-based synth – possibly providing a glimpse into future human-computer interaction. The main melody for Love Scene is rooted in Gonzales previous composition "Year #3″, which first appeared around 1998. Coco Love Alcorn is a Canadian pop and jazz singer, who is still actively involved in music.
You Are
Feist initially recorded a lush, string-based version of "You Are" (as "New Torch") on her 1999 album "Monarch: Lay Your Jewelled Head Down", which was re-released in 2012. Gonzales, having composed "You Are", recorded the song with Sticky, but while Sticky's vocals have great tonality, she isn't nearly as expressive as she is on "Why Don't We Disappear?" Still, the combination of melodica, piano, harp, and guitar work very well to create a lush soundtrack. The guitar is deftly played by Gonzales' former band mate (David) Daddy Szigeti, AKA Taylor Savvy.
Past Your Bedtime
In the original version of Über Alles, "Past Your Bedtime" is included as track 12. Disjointed piano and synth samples kick off this track, which has been described as "mocking jazz noir". An acoustic bass line kicks in, eventually joined by a soft Kraftwerk-inspired flute melody, rounding out the airy down tempo soundscape. Throughout the song, Gonzales chants a mantra of sorts: "Past your bedtime – go to bed now", and a disconnected voice reminds the listener that, "It's 4 in the morning". Additional vocals ("pa-da-da-da-da") are provided by Soffy O (Swedish singer Sophie Larson Ocklund).
Gonzales' "Past Your Bedtime" mocking vocal takes on the insistence of a parent, and may imply that the work of other artists/challengers is child's play in comparison. "Go to bed now" implies that the artists might as well give up, since there's no point of even trying to challenge Gonzales' musical mastery. With a great melding of multiple musical styles, it's a shame that "Past Your Bedtime" is no longer available.
Cover Him with Love
The first of two 'bonus' tracks from the Director's Cut, "Cover Him with Love" is the third track including 'Sticky' on vocals. This time, the track includes a piano accompaniment, which, while uncharacteristic for this album, would become Gonzales' future signature sound. A bowed bass, melodica, organ, and other instruments float around in a wonderful downtempo arrangement. Today, the track feels perfectly at home on Über Alles, but 15 years ago, it may have been too downbeat to include on the original release.
Erotobot
Originally released as a single in June of 2000, this track was the second of two 'bonus' tracks on the Director's Cut version of Über Alles. Erotobot uses a decidedly syncopated drum beat and monotonic bass synth to convey an 'automated' feeling. With an "ooh baby" call and slightly synthetic "uh-huh, uh-huh" response, Gonzales takes a not-to-subtle stab at the relationship between humans and machines. The track eventually layers tambourines, cymbal hits and bongos, which rounds out the fantastic beats that seem to be at the heart of all Gonzales compositions. Erotobot is a great track, and was more than likely considered for the original Über Alles release, but may not have 'fit' the overall theme of the album – especially with "Chilly in D Minor" as the original final track.
Über Alles: Messages
It's relatively easy to trace a path back 15 years, right to that first Chilly Gonzales album, to see that Gonzales' current message and vision was practically complete – even at that early stage. The problem was that people (and reviewers) didn't know what to make of Gonzales, since they didn't have enough time to let his messages 'sink in' deep enough. Gonzales' goal of "destroying music, to empower the world so everyone can be an MC" didn't seem in-line with the lush electronica of Über Alles – which was beautiful, but not 'groundbreaking' in the musical sense. After Gonzales broke with his former label (Warner), he must have foresaw the digital revolution – the ability to write, record, and publish music without a label dictating terms (or taking a cut). Gonzales' message did come true; everyone can now be an MC – whether it comes in the form of a self-produced recording, as part of a political revolution, or just writing in a blog.
The other message is a bit deeper, and stems from the Über Alles sleeve notes:
It will take a Jewish supervillain to rule over the Berlin underground and to lead it into defeat.
This is an early example of Gonzales' embrace of underdog concepts: using jealousy as a motivator, holding a grudge, soaring to 'the bottom', embracing failure, and learning from defeat. Defeat is one constant in many successful people's lives, but they know that understanding and dealing with defeat is the only way to be a better competitor. The only people who have never been defeated are the ones who have never competed. As long as you are not discouraged, there are a wealth of opportunities in defeat, which turns out to just be a sign that you are on the right track to success. If more people understood and embraced Gonzales' message, people would be happier and willing to try new things.
Über Alles: Final Thoughts
Über Alles takes a measured, longer-term approach to building up the Gonzales persona, and is the only CD from Gonzales' early years to still be offered in his online store, which, besides purchasing the CD at a live show, is the best place to order the album. Über Alles doesn't take us back so much as it reaffirms the educational messages that Gonzales has been imparting throughout his career. Ultimately, Gonzales himself explains Über Alles better than any of us could:
[With Chilly Gonzales, I] take parts of my personality that I would have never wanted to show people and somehow make it funny, make it touching – a bit ridiculous, but poetic and see if that would work, and I'm just trying to find the right dose. Music, humour, personality – hardcore sincere reality versus total surrealistic craziness; all of that is trying to get the ingredients right.
Gonzales Über Alles: "Music, humour, personality". Perfect.