One of the unique features of SoloGonzales is the interactive Twitter graphs. They aren't displayed on the front page due to space limitations, but can conveniently be found under the "Tweets->Twitter Social Network" menu item. If you haven't used the Twitter graph feature before, here's an overview.
What is a "Twitter Graph"?
Relationships are at the heart of Twitter; relationships between people, tweets, hashtags, etc. Social medial contains a wealth of social and behavioural information that has all kinds of alternate uses (nefarious and otherwise). In computing, any set of relationships between objects can be mapped out visually to form a static image, which can then be analyzed for trends. A Twitter Graph is a graph that visually maps the relationships between objects in Twitter. At it relates to Chilly Gonzales, tools are employed to query Twitter for mentions of Gonzales and extract relationship data. The more complex and widespread the graph, the more popular the tweet!
What about the "Interactive" Part?
A few creative web developers developed programs to take the Twitter data and present it online in a fashion that allows people to interact with the relationships. The SoloGonzales developers took the open-source code and made it specifically interact with Twitter. You can click on a Twitter user to see exactly who re-tweeted or mentioned a Tweet, what the Tweet was, and even follow the user. You can zoom in and out of the Twitter graphs, isolate a particular set of relationships, and so on.
Here's a non-interactive example from a Dec 11 Twitter Graph: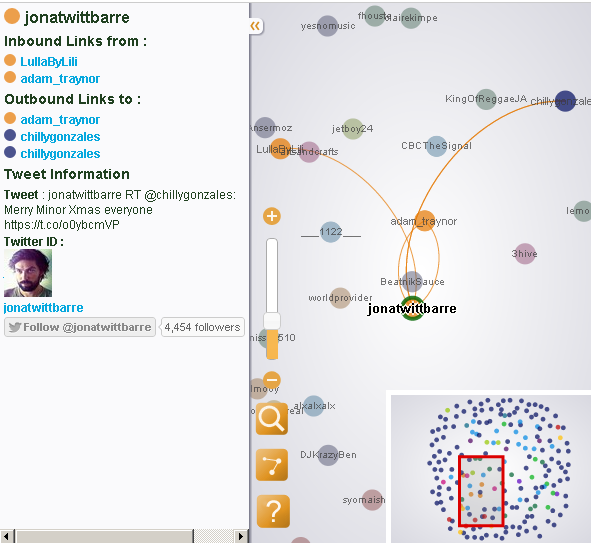 Here, we've clicked on the user jonatwittbarre (who some of you will recognize from Gonzales videos such as "Superproducer", and "Making Solo Piano II"),who re-tweeted Gonzales' Minor Xmas Medley tweet, plus he has interactions with LullaByLilli (who liked Dorian Gay), and adam_traynor ("Ivory Tower" and "Making Solo Piano II" director and "Dorian Gay" actor). Interactive graphs are a great way to discover new Twitter users to follow who share your common interests – Chilly Gonzales!
Please feel free to comment or email us on any suggestions, issues, or questions, and happy exploring!