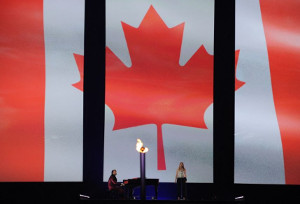 Clad in an elegant red robe and 'formal' dark slippers, Chilly Gonzales recently made one of his more surprising appearances during the opening ceremonies of the 2015 Pan American games in Toronto. The Pan Am games is a sporting event held every four years that brings together the best athletes from North and South America in friendly western-hemisphere competition, akin to a smaller version of the Olympic Games. The organizers of the opening events ceremony obviously wanted an iconic Canadian musician to provide an emotional response, possibly akin to Céline Dion and David Foster's performance in the 1996 Atlanta Olympic Games – but with far more subtlety. The exposure and publicity from his performance has definitely helped to raise Gonzales' profile in his native Canada, largely through people discussing, "The guy wearing the robe and slippers playing the piano." It's worthwhile to have a closer look at Gonzales' performance, since everything from appearance to song selection made for a memorable Toronto evening.
Pre-Show Events
Gonzales tends to plan shows about 8-10 months in advance, which made his announcement of an additional show as part of a music festival in Ottawa just two months before the event a bit of a surprise. When these events happen, we usually assume that Gonzales is working on sessions with Drake in Toronto, or has other things 'in the works'. After an appearance on the morning news show, Canada AM, we also remembered that Gonzales' friend Mocky planned a show in Toronto to support his new album around the same timeframe. As it turned out, Gonzales did make a surprise appearance at Mocky's show, jamming to a tracks with Feist on percussion. The reunion of sorts is reminiscent of an occasion a few years ago where Gonzales was playing piano while Peaches and Feist 'baptised' each other in a hotel pool. So that was it – a quick trip to meet with friends in Toronto for a show in Ottawa before resuming the Chambers tour in Europe.
The Ceremony
Only that wasn't it, as we found out the following evening when Pan Am ceremony host and Canadian news celebrity Peter Mansbridge announced that "Chilly Gonzales" was going to provide the musical accompaniment to the Canadian flag being carried into the stadium. We were floored. Then Gonzales started playing Train of Thought as nine Royal Canadian Mounted Police members carried brought in the flag, and we were surprised yet again. He then switched to accompanying the symphony (led by Toronto Symphony Conductor Peter Oundjian) and Canadian singer Véronic DiCaire in a stirring rendition of the national anthem. With a final bow alongside singer Véronic and Peter, Gonzales smiled and made his exit. It was an iconic moment for Gonzales, who performed in front of 45,000 fans in the stadium, and an estimated 45 million television viewers around the world. We were jubilant as well – not so much for the athletes and games, but more for Gonzales' achievement.
The Aftermath
As soon as Gonzales started playing and the camera zoomed in, it was obvious that he was playing in his traditional bathrobe and slippers – things that are are familiar to Gonzales fans (he has donned these items for a decade of performances), but somewhat shocking to people who expect pianists to be in traditional 'tux and tails'. Social media started buzzing, talking about the 'guy on the piano wearing a robe and slippers'. Some loved it, while others thought he was joking, but regardless, people were commenting on Gonzales. Then, they heard 'Train of Thought' and commented how beautiful the song was, and finally, when they had a good look at Gonzales standing for a final bow, another wave of 'bathrobe' comments. For days afterwards, Gonzales re-tweeted comments (good and bad), and gained many more fans (as evidenced by an increase in Twitter followers and Facebook likes).
Train of Thought
Aside from a custom bathrobe (which we'll discuss in a moment), Gonzales selected a very non-traditional composition for the arrival and presentation of the Canadian flag: Train of Thought. Fans of Solo Piano II will be very familiar with this composition: Gonzales has commented on the double arpeggios in interviews and concerts, plus the fact that it reminded him of a ride on a train led him to name it appropriately (with a requisite double-meaning). We're used to having grandiose, over-the-top songs for entrances such as this – pomp and ceremony with a huge, sweeping sound and waves of emotion (see the aforementioned David Foster for more of that). Instead, Gonzales gives us a gentle, dreamy, quiet soundtrack to the flag's entrance. The choice of Train of Thought for this section of the ceremony is brilliant on many levels. Right away, the gentle tones cause people to stop and reflect at the movement of the flag across the field, with Gonzales' piano almost mimicking the fluttering of the flag – the song is quiet, which garners attention far more effectively than shouting, and will contrast very well with the transition into "O Canada", which will be far more hard-hitting after the emotion of Train of Thought (see Berlioz: Grande Messe des Morts for other examples of emotional dynamic contrast).
Canada is also largely comprised of two languages and cultures (French and English) that have worked symbiotically to build Canada into the country that it is today. These two cultures are still readily discernible as one travels across the country: the two arpeggios that comprise Train of Thought can be thought of two distinct, but separate voices, each contributing to a greater whole. Each arpeggio be itself would be beautiful, but the interplay that happens when they are played in synchrony serves to produce something larger than each part. Gonzales manages to develop an "invisible third hand" that represents the essence of Canada – the theme that great nations arise from harmony. The red bars on each side of the flag represent the two coasts of Canada, and Gonzales' double arpeggio interaction defines the central leaf – the people – in our minds and hearts.
Canada's early economic growth also owes much to the completion of the transcontinental railway, which brought prosperity to the nation, and another route for goods to travel from the orient to the United Kingdom. Without the vision of early railway pioneers, Canada would not have been able to prosper and link the Pacific coast with the rest of the nation for many years. Train of Thought could also be though of as a nod to early pioneers, whose risks and adventurous spirit helped to define a nation. There's little chance that Gonzales thought his composition would be used in this manner when he originally composed it, but he's said that he's constantly surprised where his music takes him, and this was certainly a surprise and treat for his fans.
The Robe
There was Chilly Gonzales performing the national anthem in what might have been a bathrobe and slippers swiped from a partner hotel. – Toronto Star
Whatever the reason, we applaud you and your bold fashion choices, Chilly. Whatever lets that beautiful music out is an outfit we can back. – Huffington Post
Chilly Gonzales' bathrobe and slippers were an ode to couch athletes everywhere #PanAm2015 http://t.co/KelbfUrMla pic.twitter.com/VuhXuGDRSD

— Huffpost.ca Style (@HuffPostCaStyle) July 11, 2015
Gonzales has had a few robe 'revisions' over the years, starting with a long monogrammed purple-hued robe, to a plaid, British-themed housecoat, then to a shorter robe with elegant gold trim. As we've discussed before, Gonzales' robe represents his willingness to engage in the fight for entertainment, plus break social norms as to what a performer in front of a piano is expected to wear. Many of Gonzales' recent robes have been crafted by the brilliant Herr Von Eden, who (for some time) had Gonzales' signature robe for sale. More recently, Gonzales' gold-trimmed robe can be seen on the Herr Von Eden website, but (unfortunately) not for sale.
The robe that Gonzales wore for the opening ceremonies was new to us; it was longer than his current robe, and used a beautiful deep red with a black pattern, which matched the dark slippers he wore. Some people commented that it looked like velvet, but the sheen of the fabric points more towards silk. It's not clear whether Herr Von Eden created the robe, but it's very nice regardless. The robe telegraphs Canadianness: not only in colour, but also in an informal attitude that instantly negates the ability to be 'snobby'. People have a feeling of warmth and comfort from a robe and slippers – it's entirely disarming and relatable. To finish off his look, Gonzales also chose to don the ultimate in men's accessories: a three-day beard. Besides the fact that women find facial hair more attractive, Gonzales' beard is also reminiscent of Canadian ruggedness combined with the superstition of the hockey playoff beard – a time in which a hockey players show solidarity during playoffs by not shaving.
An unconventional song, combined with an unconventional look certainly made for interesting conversation around the opening ceremonies, which finished with Gonzales playing the national anthem with the Toronto Symphony Orchestra and Véronic. All in all, a wonderful way for Gonzales to re-introduce himself to a large Canadian audience.
The Next Wave
As we wrote previously, there's something larger happening for Gonzales – across Europe, but also within Canada. Three sold out shows in Montreal, sold out shows in Toronto, appearances on TV and radio, and now Gonzales has announced concerts early in 2016 in large venues in Toronto and Montreal – with a recorded show for the "Live in Massey Hall" series in Toronto. The Canadian media and public are taking notice of Gonzales and his wonderful musical messages. There's no doubt that Canadians young and old are looking for something other than pre-programmed top 40 – they're looking towards people who inspire them though music using 'analog' instruments – almost as if the more disconnected devices make them feel, the more they are seeking out traditional instruments to re-connect them with something that only humans can do.
It's absolutely wonderful that Gonzales is being recognized in Canada for his contributions to music and musical education. Toronto is where Gonzales formed a jazz fusion band "Decoy" in High School (with schoolmate Simon Craig), and where he worked relentlessly for a Wednesday gig at Clinton's (an infamous local bar). It's where he became disillusioned with the Canadian music scene and decided to leave for Europe and create "Chilly Gonzales". The trajectory back to Toronto to play for a nation isn't a straight path, but he's picked up many fans and musical admirers through all the twists and turns. Gonzales embodies the spirit of Canadian explorers, and the best adventurers are always willing to explore new territory so they have more to teach and share. As former Prime Minister Pierre Trudeau once said of Canadian musicians:
…they sing the song of Canada – they sing from the heart of Canada – they sing from the feelings of Canada.
As Gonzales demonstrated in the Pan Am ceremonies, his powerful, non-verbal, globally-influenced music is at the forefront of a new generation of Canadian values, and certainly sings the feelings of Canada.