Back in April 2013, we covered an interview Gonzales had with "Sud Ouest" (a regional French magazine). Within the interview, he indicated that the "inherently imperfect" sound of the piano sounds even more perfect to our ears, and added that there will, "no doubt be a Solo Piano III or a Solo Piano IV album." Four years later, we're happy to say that all signs are pointing to Gonzales actively working on Solo Piano III. The first hint we saw was a Twitter response Gonzales sent to someone who had a question:
@ClaraJeffery working on 3 as we speak!

— Chilly Gonzales (@chillygonzales) March 12, 2017
Four days later, Feist spoke with Apple Beats' Zane Lowe about her upcoming album "Pleasure", but they also spoke about Gonzales. During the interview, Feist discussed Gonzales' involvement on the new album, and that they are in constant contact about Solo Piano III. Here's the clip and transcript (the Gonzales part starts at 6:00, with a Solo Piano III mention at 7:28):
Zane: He has broad shoulders too – he's an amazing creative…
Feist: He is; we were joking that we have to fabricate a beef…
Zane: Hold on a second… (- Explosion sound effect -) …Exclusive – Feist/Gonzo beef
Feist: Am I allowed to swear about that? All that classical music is so irritating!
Zane: So indulgent!
Feist: No, he is a deep brother for me and the two of us both recognize with those ten fingers of his and that intuition and that heart and all of that musical understanding and humanity in what he does – it's like ten fingers and I kind of wanted two – I wanted not full chords – just tiny voicings, nothing rich, nothing full; a little bit more like a pencil drawing than a full, expressive watercolour. But he did come and we presented him the album when we were pretty much done tracking it in Paris and he came and spent a few days at Ferber on the couch and we played him though everything and invited him – anywhere, anything – where do you want to speckle your DNA here? So he has a couple of moments that pretty much only me and Mocky and Renaud can hear.
Zane: That's incredible
Feist: Just to have his presence
Zane: Yes, it's also nice, I think, to be able to re-establish your relationship that doesn't feel like, "Oh this is expected."
Feist: Well, and also our friendship is what is important, and are in constant contact about his Solo Piano III. As I was writing this record, there's a lot of online salons where we play each other stuff, and there is a big 'shape taking' when you have someone kind of, "in your mind" while you are writing. For sure, there is that influence there, and anyway, we have another 50 years of making albums, so we have to allow new eras to dawn – whatever that might be.
Seeing as Gonzales is well-known for his solo piano work, this is big news; a new solo piano album opens up a new chapter in the series and a wealth of other opportunities to enjoy Gonzales' music. We're going to use our imagination and venture down a few solo paths to see what Gonzales may have in store:
The Music
Some people like the soft brilliance of the original Solo Piano, while others prefer the more 'poppy' Solo Piano II – regardless, Solo Piano II wasn't "part II", but rather an album that diverged from the original, while still maintaining Gonzales' signature style. He changed pianos from an old Yamaha to a new Bechstein (both uprights), and produced the second album in a 'cleaner' style, mastered by the great Mandy Parnell. Style-wise, we expect Solo Piano III to be recorded at Studio Ferber, with the master Renaud Letang overseeing the recording and mixing. Recently, Gonzales has been seen sitting at a Yamaha (for Room 29) – it's unknown if he'll record Solo Piano III on a Yamaha, or a Bechstein, but we're very certain that it will be an upright piano with felt over the strings (sourdine).
Occasionally, Gonzales 'hides' small melody or chord sequence 'snippets' in other songs that eventually appear on a subsequent album; he's almost always played a snippet at a concert. Seeing as Gonzales has been on sabbatical, there has only been a few opportunities to hear him live, and we haven't heard any 'hints' of songs or style changes, but there are a couple of very novel melodies on Room 29 – some of which we'd love to hear expanded on a solo piano album. Case in point: the lovely high-octave "dream sequence" melody in "Belle Boy", that could otherwise be turned into a funky number played a few octaves lower. We'll have to keep our ears peeled for any new music that makes its way into Gonzales' repertoire. Regardless, Gonzales' venture into Chamber music likely has had an impact on his solo piano approach.
Format-wise, Gonzales has generally stuck to his relatively short "piano-only" (no singing or other instrumentation) pop song format – no 6-minute versions here, but we've often wished for the album to have 'alternate' extended or 'live' dynamic versions – similar to what one would hear in a Gonzales concert, but as Gonzales said, he strives to maintain the intimate home listening experience and save the boisterous versions for his live shows.
Sheet Music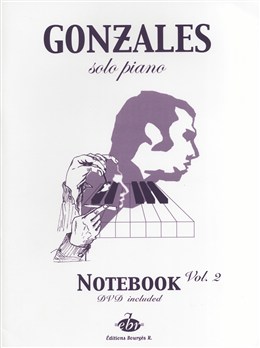 As we've come to expect and look forward to, Gonzales has  consistently released downloadable and book-format sheet music to his new songs, presented in a beautiful design (maybe he'll have CD and sheet music package combinations). The books add an interactive dimension to Gonzales' music – anyone can learn to play his music, and there's something wondrous when you play a Solo Piano song (or even your favourite snippet). Gonzales is definitely an artist where generations down the road will wish they were born in his era – consider yourself lucky!
Deutsche Grammophon
It's possible that Solo Piano III will be released on the prestigious Deutsche Grammophon label, and (as Gonzales roughly said to the BBC), had someone told a young prankster-rapper that his music would eventually be published on Deutsche Grammophon, he would have likely had a good laugh. As it turns out, that may have been Gonzales' trajectory all along (although he may not have known it at the time). Solo Piano III would be absolutely fitting for release on Deutsche Grammophon, but seeing as we're not privy to all the ins and outs of labels and music publishing, we'll be happy – regardless of the label.
3 or III?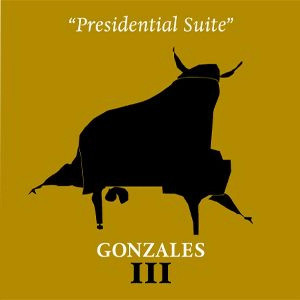 The question arises – will Gonzales break tradition and use a numeral '3′, or maintain the classic Roman III? '3′ has great curves and can be used to imply something that breaks with tradition, but in the wrong designer's hands, can also look 'cheesy'. 'III' is always a reliable classic, and Gonzales has used the format on Presidential Suite. We've never underestimated the thought and detail that goes into a Gonzales cover and design, as the visual and tactile experience adds to the listening experience. There are also many other ways to imply '3′ in a creative manner – the artwork and design is something to look forward to.
Rough Trade Version
For Solo Piano II, a special "Rough Trade" version was released with an additional 15-minute 'improvisation' called '26 December 2011′. It's a great track that Gonzales indicated was the closest thing to his 'practice' sessions as he's released. Obviously a bonus "Rough Trade" version track would be great, but sometimes the Japanese version contains a bonus track as well. Regardless, it's fun to track down and hear bonus songs.
Videos
For Solo Piano II, Gonzales captured some of the recording process in a short video series, and also released some initial 'preview' medely tracks on pianovision. We'd anticipate that Gonzales will continue releasing preview videos (possibly in pianovision) for Solo Piano III. For many, the videos helped to learn the songs on the piano, while others appreciated the 'behind-the-scenes' look.
Solo Piano Tour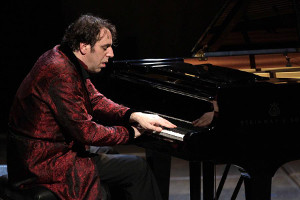 As we've come to expect, Gonzales tends to go on tour after an album release, and seeing Gonzales live is obviously something everyone should have the chance to experience. We mention this constantly, but the point can't be underscored enough; Gonzales' live performance is an experience that will stay with you – the emotions and memories come back each time you think of the concert or hear a song he played. Whether it's Armellodie in complete darkness, crowd-surfing to You Snooze, You Lose, audience participation, or countless laughs and melancholy frisson, there's nothing like a live Gonzales show.
III, 3, Trois, Tre, Tres, Drei, San
With catchy melodies, pop sensibility, humour, and classical emotion all bundled into one accessible package, Gonzales fans are definitely looking forward to his next Solo Piano album – regardless of the moniker. We certainly don't have any details on release dates, but from past "hints to release date" timeframes", we'd guess that Solo Piano III is about 8 months away. We'll definitely keep Gonzales fans appraised on any news – until then, keep practicing your piano.