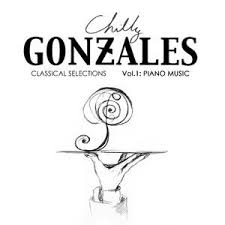 Mixtapes are a great way of expressing a love for music and at the same time, allowing people to peer into the type of music that drives and inspires entertainers, such as Chilly Gonzales. When Gonzales released Vol.1 of a 3-volume set of classical selections, we weren't disappointed. Although the set does come with a tracklist, we felt like there was a back-story to the selections that was missing – why these artists, and why these songs? We set out to analyze each track to try and find the elements that Gonzales finds appealing.
Gonzales' Summer Mixtape: Classical Selections Vol.1: Piano Music can be downloaded here.
Here's the complete playlist from the official.fm site:
0:00 to 00:57 "Kylikki" [sic] by Sibelius (Glenn Gould)
00:58 to 2:58 "Sonata #15″ by Beethoven (Glenn Gould)
2:59 to 4: 46 "Kurd Melody for Two Flutes" by Gurdjieff (Thomas de Hartmann)
4:47 to 7:10 "Prelude in G minor" by Rachmaninov (Barbara Nissman)
7:11 to 8:49 "To a Sea Horse" by Moondog (Moondog)
8:50 to 11:03 "Chorale" by Cesar Franck (Sviatoslav Richter)
11:04 to 12:26 "Prelude #2″ by George Gershwin (Goerge [sic] Gershwin)
12:27 to 13:48 "Une barque sur l'ocean" by Ravel (Pierre-Laurent Aimard)
13:49 to 15:48 "Intermezzo No. 3 in C sharp minor" by Brahms (Glenn Gould)
15:49 to the end "Avril 14th" by Aphex Twin (Aphex Twin)
In Part 1, we cover the first 5 tracks (to 8:49).
0:00 to 00:57 "Kyllikki" by Sibelius (Glenn Gould)
Jean Sibelius (1865–1957) was a Finnish composer. When someone pointed out a critical review to Jean Sibelius ("at his very best, he is often weird"), Sibelius proclaimed, "Pay no attention to what critics say. No statue has ever been put up to a critic." Sibelius certainly seemed to ignore almost everything to write music in a manner that was called, "antimodern modernism". His piano compositions were no exception. This excerpt from "Kyllikki, Three Lyrical Pieces Op. 41 (1904)" is the first minute or so of the second of three movements. Each movement in the piece is said to have portrayed a central character's different successive states of mind; in this case, the character is in "solitude", or a period of introspection. Truly some of Sibelius' best work. Glenn Gould really seemed to be able to relate to these pieces, and set the pacing just right. Glenn Gould recorded Kyllikki in 1977.
Potential appeal to Gonzales
Brooding and melancholy, the idea of solitude is wonderfully captured in Sibelius' composition. Isolation can be appealing to people from the far north (Finland, Canada, etc.), where you can drive for hundreds of kilometres on a snow-covered highway without encountering any signs of civilization. The 'inner dialogue' that transpires from being disconnected can be a source of inspiration and new ideas.
00:58 to 2:58 "Piano Sonata No. 15? by Beethoven (Glenn Gould)
From Piano Sonata No. 15 in D major, Op. 28. This is the second (Andante, or 'slow and even') of four movements. Most people know about Beethoven's hearing loss, which was ever-worsening when he penned this beautiful sonata, published in 1801. Rumoured to be Beethoven's favourite, its sense of marching and staccato rhythm laid overtop of a quiet solitude isn't overly emotional, but more 'sweetly subdued'; any tension built-up is minor and temporary. The complete movement adds elements of playful humour as well before returning to a quiet ending. Anton Kuerti: "The very reserved solitude and simplicity of this movement is very moving, and Beethoven often played it in the company of his friends." Glenn Gould has his usual wonderful sense of interpretation and can be heard humming away in the background.
Appeal to Gonzales
The contrast between the soft opening keys and switch to playful melody underscores a tenement in Gonzales' music and performances: open people's minds with laughter, then unleash the emotional payload – the resulting emotion from this one-two combination is much more powerful than either humour or 'emotional' music alone. Beethoven is also said to have written this in a very short timeframe, while partially deaf – Beethoven was at the top of his game, and just kept on rolling out unbelievable music, which may also appeal to Gonzales' spirit of overcoming obstacles.
2:59 to 4: 46 "Kurd Melody for Two Flutes" by Gurdjieff (Thomas de Hartmann)
There's really no way to succinctly (or sufficiently) describe a character like George Gurdjieff: world traveller, businessman, teacher, composer, etc. He seemed to try to live many lives in the one that he had, and his enthusiasm and gusto attracted many followers and students. One student was the Russian composer Thomas de Hartmann, with whom he composed many songs. Gurdjieff had very unique views on practically everything – music was no exception. Gurdjieff believed strongly that most music is subjective; it affects each listener differently, according to listener's current state. He believed that there is also 'objective' music that affects all people the same way – the vibrations touch each listener and brings them to a harmonious state, and new relation with the universe which is itself a large field of vibrations. Gurdjieff also believed that the 7-note scale represents a fundamental cosmic law, which governs vibrations, which are the flow of energy for the entire universe.
The performer of the piece (Thomas de Hartmann) met Gurdjieff in 1916 and spent the next 13 years creating the 'Gurdjieff-de Hartmann' piano compositions before parting ways in 1929.
Potential appeal to Gonzales
The idea of music affecting listeners and acting as a form of communication is a concept that Gonzales references: "Music touches you – I think the purity of Solo Piano is part of the entertainment – I'm thinking of the audience – picturing them and trying to get something through to them, and I consider that an extreme form of intimacy, which is a huge part of entertainment as well." This idea may not have started with Gurdjieff, but he certainly used it as one of the tenements in his teachings.
The full track is freely available from archive.org.
4:47 to 7:10 "Prelude in G minor" by Rachmaninov (Barbara Nissman)
From Prelude Op.23 No.5 in G minor. Rachmaninoff was certainly ranked as one of the finest pianists of his time, with a clean, precise, driving rhythm, and unparalleled accuracy. He also possessed an incredible memory, with the ability to play back compositions with complete virtuosity just two days after first seeing them. His finger span was incredible, and was able to play the chord C Eb G C G with his left hand. This virtuosity, combined with Rachmaninoff's compositional abilities, makes him one of the greatest composer/performers of all time. The piece has an unconventional ending; an arpeggiated run to high G.
Potential appeal to Gonzales
Outside of the ending, which is somewhat reminiscent of what one may hear at a Gonzales concert, the actual piece seems less important than the inclusion of Rachmaninoff himself in the mixtape – likely due to his renowned composer/performer abilities.
7:11 to 8:49 "To a Sea Horse" by Moondog (Moondog)
Moondog (Louis Thomas Hardin May 26, 1916 – September 8, 1999), was a blind composer and street performer who garnered acclaim because of his musical abilities, and his ability to perceive music everywhere in life. On moving from Memphis to New York City in 1942, Moondog met many musical luminaries of the time, including Leonard Bernstein, Arturo Toscanini, Charlie Parker and Benny Goodman – all of whom influenced him greatly. He supported himself as a street musician and by selling copies of his poetry and his musical philosophy. Almost all of Moondog's recordings were the result of another individual leading Moondog into the studio to ensure that his music was recorded for future generations. For the last years of his life, Moondog moved to Germany where a young German student named Ilona Sommer hosted him and transcribed hundreds of compositions from Braille to sheet music. "To a Sea Horse" (recorded in 1956) was used in a humorous manner in a Ford Fiesta commercial, taking advantage of the 'light' elements of the composition, which doesn't appear to have a 'conventional' time signature (5/4?). The song is emotional and unusual.
Potential appeal to Gonzales
As a song, "To a Sea Horse" is abstract and unusual, yet gripping and emotional, and almost heralds a new era in musicality beyond artists such as Ravel – an era that could only be ushered in by a blind street performer in New York. Recordings and musicians that delineate boundaries between musical eras are often significant – at least in retrospect. Moondog may be one of the rare musicians who Gonzales has a ton of respect for because he was a true artist. In Gonzales' words from a Monocle podcast:
Authenticity is presenting yourself and keeping it pure. If you say you are an artist , it probably means that you are interested in the lifestyle and the cachet that comes with the word 'artist'. That word has always put me off. I've met a few true artists, but those people legitimately didn't care about an audience – they were more obsessive-compulsive artists. Those people I respect, but anyone who says they are an artist but secretly wishes they had audience – that means that they are just failed entertainers. A true artist is probably someone who wouldn't pose for a picture, a true artist doesn't sign a record deal, a true artist doesn't take photos, a true artist doesn't come on radio and talk about their work in a sense, because you are then communicating. Then how can you say you don't care? How can you say "I do it for myself and if people like it it's a bonus?" Isn't that just hypocritical? Shouldn't those people just quit? The answer is yes.


Hope you enjoyed our analysis in part I; stay tuned for Part II…