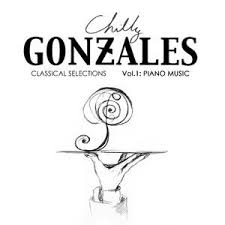 In our previous post, we took a close look at half the tracks on Chilly Gonzales' summer Mixtape – Classical Selections Vol. 1: Piano Music. In Part II, we analyze the rest. The complete mixtape is available here.
By examining the track selections in greater detail, we hope to uncover some of the reasons why Gonzales selected those particular tracks and composers for inclusion in his mixtape.
8:50 to 11:03 "Chorale" by Cesar Franck (Sviatoslav Richter)
Cesar Franck was a gifted piano student who eventually came to resent and ignore the piano for the greater part of his life. Only after years of composing and teaching organ music did Franck made peace with the piano and composed several pieces that turned out to be some of the most compelling solo piano works of the 19th century. Franck's decision early on in his career to take an organist position in local churches led to much acclaim within the organ community, but wasn't the object of high praise from contemporary luminaries such as Liszt. Towards the end of his career, Franck moved further away from 'lifeless' religious organ music and closer to the piano. Ironically, Franck's piano compositions were considered more spiritual and emotional than his organ music. It is only with a lifetime's experience that Franck was able to pull off the masterpiece that is the Prelude, Chorale and Fugue for solo piano. Preludes and Fugues were considered passé when Franck decided to counter the plethora of superficial virtuoso pieces in vogue at the time. Franck decided to use the abstract cover of a Prelude and Fugue to express his faith, which wasn't going to be easy, since the Prelude and Fugue wasn't really considered a vehicle for religious works. Franck added an uncharacteristic central section to the prelude and fugue: the chorale. The chorale provided central emotional theme for the work and linked the other two sections; an excerpt of which is included in the mixtape.
Potential appeal to Gonzales
Besides likely respecting Franck's compositional, performance, and teaching skills, Gonzales may identify with Franck's realization that emotional impact is most felt not through a powerful pipe organ, which physically shakes followers into religious conformance, but rather through the emotional power of solo piano. Inherently much more difficult, the power of solo piano lies in eliciting an internal emotional response within the listener, which creates a far more compelling reason to believe in a higher power (in Franck's particular case). The difference is essentially between being told what to do versus the freedom to be able to decide what to do, the latter of which is far more effective.
11:04 to 12:26 "Prelude No.2 by George Gershwin (George Gershwin)
It's almost impossible to count the number of artists have been inspired by, and have recorded songs composed by Gershwin, which makes it even more surprising that Gershwin wasn't all that good at the piano when he started taking lessons in his youth. When his mother purchased a then-expensive piano for the family, no one could play it, so George had to learn, but he had difficulty, and was told by Max Rosen, a famous violinist that he would never be a musician. Surprisingly, Gershwin played little concert music beyond Chopin preludes, which he had difficulty interpreting with feeling. Dejected, George went to work as a music plugger on tin-pan pianos at the back of bars until 2 or 3 in the morning for 15 dollars a week, where night after night, he would hone his popular music skills. After writing a song and trying it out on the crowd one night, a lady asked him what the name of the song was. "It has no name," was Gershwin's reply, but that song ended up becoming his first hit, "I Was So Young, and You Were So Beautiful". Gershwin would eventually make his way back to the elusive Chopin Preludes, but this time on his own terms. In October, 1926, Gershwin premiered Five Preludes he had written for the piano (3 were eventually published), supposedly as a salute to the composers whose works he encountered including Chopin, Debussy, and Stravinsky, but peppered with elements of blues, jazz and dance hall music – almost personifying the American spirit of reinvention so rampant at that time. Gershwin went on to write some of the most memorable and endearing songs of his generation – many of which have become jazz standards. The only thing that stopped Gershwin's voracious appetite for learning was a brain tumour that tragically ended his life at just 38 years old. The prelude on the mixtape is the second of the three published: "Andante con moto e poco rubato" (in C# minor), which Gershwin described as sort of a 'blues lullaby'.
Potential appeal to Gonzales
In "The Unspeakable Chilly Gonzales", Gonzales declares that he's a "Cyborg version of George Gershwin" and a "Tin-pan fan", so the inclusion of Gershwin shouldn't be a surprise. Gonzales seems to be able to identify with many aspects of Gershwin's life, including an incredible work ethic, insatiable appetite for knowledge, and the ability to 'remix' pieces of what he heard and make them into the popular music of the day. Gershwin was certainly a man of this time, as Gonzales has a penchant to say. For Gonzales, the Preludes may represent a turning point in remixing culture; to take the jazz and blues of the day, apply it to classical composers like Chopin, and create a memorable song was a feat unheard of until that point in time. Gonzales would go on to use the same technique of 'sampling' from (long dead) classical composers as the basis of many of his electro compositions.
12:27 to 13:48 "Une barque sur l'ocean" by Ravel (Pierre-Laurent Aimard)
The creative environment of Paris in the early 1900s was one of the most productive times for French painting and music. Artists formed groups and hung out in coffee shops with their friends – dreaming up and trying out new ideas that had never been tried before. The group of young artists that Maurice Ravel hung out with included painters, poets, musicians, critics, and so on. Their moniker, "Les Apaches" or "hooligans", came about after they bumped into a well-dressed man on the street, who called them "hooligans". As a creative outlet, and to honour his fellow artists, Ravel composed a series of five solo piano pieces called "Miroirs" or "Mirrors" – one for each member of Les Apaches. Ravel was experimenting with abstract music – compositions that would evoke images and the resulting pieces were akin to painting emotion with music. Dedicated to Paul Sordes, Une barque sur l'océan ("A boat on the Ocean") paints a picture of a small boat as it sails on the waves of an ocean. The imagery is moving and undeniable, which is fitting seeing as Paul was a painter. Technically demanding and a perfectionist, Ravel's method was to let a musical piece develop in his head for years before actually writing the music. In this way, the true core 'essence' of the composition would be exposed.
Potential appeal to Gonzales
Like Ravel, Gonzales also had a close-knit group of friends who he hung out with: Peaches, Feist, Taylor Savvy, Mocky and others, and it appears that they helped each other immensely. Gonzales said that he wrote "You Snooze, You Lose" to cheer Mocky up, but outside of that revelation, it's not known whether Gonzales wrote any other songs with specific members of his musical family in mind. Aside from close friends, the wonderful abstraction contained in Ravel's composition is something that Gonzales has alluded to. For example, Othello is evocative of a Jamaican Steel Drum, and Escher represents a figure climbing up and down an endless set of stairs.
13:49 to 15:48 "Intermezzo No. 3 in C sharp minor" by Brahms (Glenn Gould)
Brahms was a virtuoso pianist, composer, and perfectionist who mastered counterpoint and developed new approaches to harmony and melody. From the outset of his career, Brahms made a conscious decision to break with the Romanticism that surrounded him, and re-connect and update Beethoven's Constructivism. He started at the age of 20 with three sonatas for solo piano, and ended 40 years later with hundreds of compositions in nearly every form known at the time. Throughout his life, Brahms considered himself an outsider and preferred an 'underdog' role to hanging out in social circles. Ultimately, Brahms compositions were influential to a host of future generations of composers and artists, and he remains one of the greatest composers who has ever lived.
Composed in 1892, Intermezzo No. 3 in C sharp minor is the third and final Intermezzi by Brahms as part of Op. 117, Three Intermezzi, for piano. Intermezzo means "interval, or break", and an Intermezzo was commonly used to tie two parts of a play or musical composition together. Unusually, Brahms chose the use the term Intermezzo for independent pieces that do not obviously connect anything together at all. Brahms Intermezzi have a wide emotional range and are considered some of the best character pieces of the 19th century; a great example of the compositional mastery that Brahms had reached. All three are slow and are indicative of Brahms' mood in his late piano compositions. In the same year as the Intermezzi were composed, Brahms lost his sister and long-time friend Elizabeth von Herzogenberg, which may have contributed to the emotional content of these pieces. Brahms may have been expressing his desire to maintain his dignity and control his emotions while grieving. Brahms himself described the pieces as lullabies to his sorrows, and prefaced the music with a quote from a Scottish baby song: Lady Anne Bothwell's Lament: "Balou, my boy, lye still and sleep, it grieves me sore to hear thee weep." There is also a conjecture that the third piece was inspired by the Henry Wadsworth Longfellow poem, "Victor Galbraith", which gives it a "haunting" quality.
Potential appeal to Gonzales
Gonzales has previously expressed his admiration for Brahms, so it's no surprise that Brahms included in the mixtape. Like Brahms, Gonzales also seems to enjoy his 'outsider' status, eschewing the large arenas for the quiet confines of smaller halls (even if it means 2 or more concerts in a row). The sheer emotional power of Brahms music must have appealed to Gonzales, especially considering Gonzales' own ability to make one's hair stand on end with solo piano songs. Overall, Gonzales may respect Brahms as the "tender, rough, erudite, intelligent, irascible, sarcastic, kind, clear-headed, tactful, tactless, funny, generous, idealistic, shrewd, romantic, cynical, enthusiastic, pessimistic, ruthless, sentimental, expressive, uncommunicative, conventional, spiritual, and free-thinking" man that he was. Brahms ultimately expressed himself though amazing compositions that have withstood the test of time.
15:49 to the end "Avril 14th" by Aphex Twin (Aphex Twin)
Richard David James, aka Aphex Twin achieved notoriety as one of the most prolific electronic recording artists of the 1990s. With avant-garde techniques, Richard changed the electronic music landscape with each release. For all practical terms, Richard was 'retired' from music when in 2001 he released a 30-track album, which was divided rougly in half between piano and electronic compositions. The electronic tracks didn't come as a surprise, but the piano tracks certainly did. All piano tracks were programmed and recorded on a Yamaha Disklavier – a MIDI-controlled equivalent to the player piano. Some of the piano tracks used prepared piano (attaching or inserting noise modifiers, such as washers and coins to the piano hammers and strings), while others used just the controlled piano. Microphones were placed directly inside the piano for many of the tracks to record the piano mechanism, and those noises are apparent on the "Avril 14th" track. Poignant and melancholy, the warmth of Avril 14th was a huge surprise to people who followed Aphex Twin, and it served as a source of inspiration and soundtrack for many musicians, movies, and TV shows. One reviewer indicated that the track was very "Satie-Like".
Potential appeal to Gonzales
Avril 14th is an emotional two-minute pop song recorded by a talented electronic artist, and Gonzales may have been impressed at the ability for someone like Richard to take everyone by surprise. Like Richard, Gonzales was releasing electronic music from roughly 1999 onwards, so it was a huge surprise to his fans that this 'prankster-rapper' could compose, record, and release Solo Piano in 2004. The contrast between electro-rapper Gonzales and solo piano player Gonzales seems sharply delineated, but on closer inspection, one realizes that the electro tracks leverage emotional and virtuoso elements, while the solo piano tracks borrow a pop sensibility. In the end, Gonzales' years of experience combine to make each recording more amazing than the last.
Avril 14 – Aphex Twin from Matthias on Vimeo.
The varied and unique selections on Gonzales' mixtape range from relatively obscure artists, to some of the most endearing composers of the 19th and 20th century. If there's an underlying theme, it may be Gonzales' deep respect for composers who have been able to convey an incredible range of emotions from a solo piano – no easy feat. A subtext may be homage to composers who didn't simply reject the past, but studied and mastered it, and made it accessible for modern audiences. Finally, there may also be a nod to composers who are also virtuoso performers – exacting, demanding, and relentless in their pursuit of perfection.
We hope you've enjoyed our 'Gonzalysis' of Chilly Gonzales' summer Mixtape – Classical Selections Vol. 1: Piano Music, and look forward to hearing and analysing volumes 2 & 3.