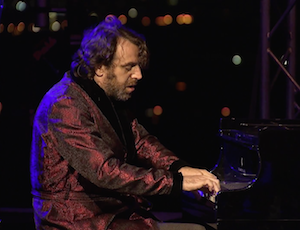 Sometime in 2015, an Audi arts initiative called Zeitgeist Symbiosis selected Teufelsberg in Berlin as the first location for its launch of a new platform for creative experiments, and on September 3rd, the first musical guest to perform in the series were none other than Octave Minds: the collaborative namesake of Chilly Gonzales and Boys Noize. The event was recently re-broadcast on FluxFM and subsequently made available on the Zeitgeist Symbiosis website. A 'live' Octave Minds concert seems like an unlikely prospect: hundreds of Boys Noize samples have to be manually triggered, combined with live synths and Gonzales' dynamic piano completing the musical picture. Not only was the end result a flawless performance,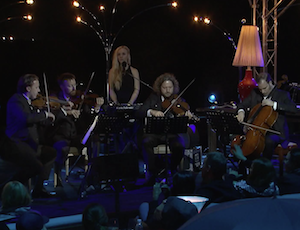 Octave Minds also incorporated additional instruments in the form of the versatile Kaiser Quartett and the vocal & synth accompaniment of Stella Le Page. Selecting Octave Minds as the debut group to « create something new in terms of culture » was an insightful choice on the part of the initiative; Gonzales and Boys Noize represent a new form of collaboration – one which can use technology to create modern, accessible music over time and distance, while still reaching back to the past for inspiration and emotion.
When Igor Stravinsky was asked what provided the inspiration for his music, he recalled a wonderful annual event from his childhood, « The violent Russian spring that seemed to begin in an hour and was like the whole Earth cracking. » The notion of rebirth was a theme that would follow Stravinsky throughout his life, and firmly plant itself in many of his works, including: The Firebird (a Slavic cousin to the eternal and mythical Phoenix), The Rite of Spring, Perséphone, and a rebirth of Russian folk songs in Petrushka. Stravinsky expressed rebirth's supernatural forces through his daring use of dissonant intervals and non-diatonic melodies – something unheard of within a major production at the time. The sheer transformative power of spring is used in countless stories to depict the regeneration of life after a period of darkness; rebirth is a concept that has ignored cultural divides for millennia.
War also possesses the power to instantly transform physical and psychological landscapes. At the end of World War II, relentless Allied bombing campaigns destroyed Germany's infrastructure – by the time the raids were over, only 20 percent of historical buildings remained in major cities. After the war, a massive clean-up effort was undertaken in order to begin what was fundamentally the rebuilding an entire country. Millions of tons of rubble from destroyed and unsafe buildings had to be hauled away to make room for the massive rebuilding effort. Heavy and difficult to process, it was decided that the rubble would be carted to central drop-off areas, which were typically located on former Nazi buildings or grounds. As the piles of rubble grew in size, the locals started calling the piles « Monte Klamotte » or « rag mountains ». In time, the piles rose above all other buildings to resemble actual hills or mountains, which were eventually covered in soil and grass and turned into parks. These parks appeared all over Germany and were given disparaging names such as: Frankfurt's 47M high « Monte Scherbelino » (« Shard Mountain »), Pforzheim's 40M high « Wallberg » (« Wall Mountain »), Cologne's 25M high « Herkulesberg » (« Mount Hercules »), and Berlin's 40M high « Großer and Kleiner Bunkerberg » (« Big and Small Bunker Mountain »). The tallest of the « Mount Klamotte » was located in Berlin: the 55M tall « Teufelsberg », or « Devil's Mountain », where 12 million cubic meters of old Germany was formed into a pile that forms the second-highest peak in Berlin.
Buried deep within Teufelsberg lies the walls of the original building that stood on the site before war broke out: the « Wehrtechnische Fakultät » or « Bundeswehr Technical Faculty » the first phase in the construction of a Nazi Technical University in Berlin, designed by none other than the master architect of the Nazi party: Albert Speer. The University was to be a monument to German culture, knowledge and power, but (like many of Speer's projects), his vision was never realized other than through the construction of the central building's outer shell. Instead, the building served as a foundation for Germany's past – both physically and in spirit, heaped into a pile and covered in grass in a pile of dissonance.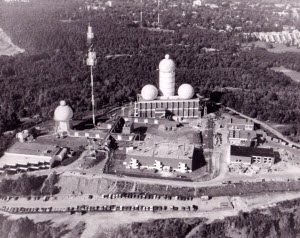 In the early 1950s, Teufelsberg was declared 'full' and a process began to make it accessible to the public. In 1955, a ski jump was constructed for public use, and expanded in 1962. Around the same time, the cold war broke out and allied forces determined that Teufelsberg would be an ideal location to build a military « listening post », whereby the United States spy agency could listen in on broadcasts from East Germany. A tower and multiple aircraft radar domes were built (as an oddly phallic monument) and used up until the fall of the Berlin wall. After this, multiple efforts to convert Teufelsberg to a commercial side failed, and the site was the victim of extensive vandalism and graffiti. Today, the base is generally off-limits, but there are guided tours available, and talks are underway to commercialize the site.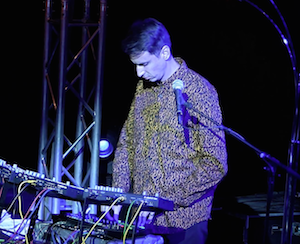 The anything-goes music scene of Berlin that attracted Gonzales in 1998 (under the Wolfstein moniker – possibly as a retort to Wolfsschanze or Wolfsschlucht) was in sharp contrast to the well-defined pseudo-folk attributes that bands has to possess to make it in his native Canada. Germany, and especially Berlin, seemed like a great place for someone with a Jazz and Classical education to build a mythical artist from the ground up. In Gonzales' words, « [Gonzales was created]…the moment I went from Canada over to Berlin, and that was my transformation to be « me » but more me than I could ever be. Exaggerated. » The same musical environment must have appealed to Alex Ridha as he grew up and experienced a wave of electroclash which reverberates to this day. The music scene would likely not have evolved to this point had it not been for the gigantic mound of old buildings piled up on the outskirts of Berlin. The old ideas gave way, which brought a new wave of people bringing fresh ideas and a spirit of community to the otherwise devastated City. Like Stravinsky's fascination with rebirth, new Berlin rose from the old, but the old was never really all that far away.
In reality, there is a third wave of German renaissance building, which has a paradoxical fascination with 'all things old'. Historical buildings, traditions, and even music and architecture are all looking back to pick out the good in Germany prior to the unrest. Knowing where you come from is sometimes as important as where you are moving towards. A recent addition to Berlin's Neues Museum combines old and new architectural styles to develop an entirely new form; one which celebrates the past, while incorporating new techniques – something that is much deeper than the a superficial « retro » label. On Gonzales' collaboration with Boys Noize for Ivory Tower (many songs off Ivory Tower were played live for the concert), he said, « I wanted to do something more modern because people fundamentally find it hard to take in something that's called « retro » – it's not fun to be called that. » Germany's ability to mix new and old is attracting over 8 million visitors per year – visitors who seek a « contemporary historical » experience (whether bad or good). Gonzales, with his self-admitted 'old-world' skills, combined with Boys Noise's electronic prowess are a musical embodiment of this spirit of reconstruction, and celebrating their collaboration on top of buried Nazi schools and the remains of old Berlin in the shadow of decommissioned spy buildings is deeply symbolic.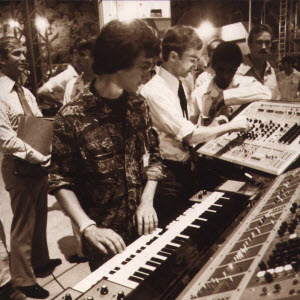 In the 1977 movie, « Close Encounters of the Third Kind », the climax occurs on top of a Wyoming monument called « Devil's Tower » – replete with a United States secret military base that includes a massive synthesizer and light display. Music, like movies, conjures our subconscious processes and moves the « pleasure principle » in front of our « reality principle ». Spielberg physically and emotionally grabs viewers right at the beginning of the movie with a massive C-major chord, of which Spielberg said, « Nothing else would have had that impact, that rush of air. » The synthesizer in the movie is a rare and massive ARP 2500, which produces a memorable 5-note sequence that has become part of pop culture. In one of the video clips for Zeitgeist Symbiosis, Boys Noize is see playing with the much more portable follow-up to the 2500 – the ARP 2600. It's not known whether any of the sounds in the Octave Minds set came from the 2600, but in the midst of cold war radar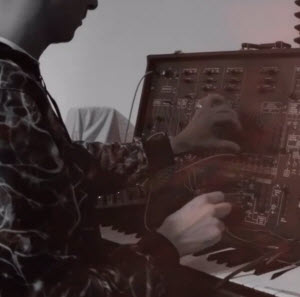 and communication equipment, the concert could have been unknowingly communicating with alien life forms (at the very least, they seemed to be able to summon a decent rain shower). Gonzales has said that the core tools in music have universal appeal – emotions can be elicited regardless of where you live and what you have heard before. Spielberg (whose father was a computer engineer and mother was a concert pianist) takes that sentiment one step further and shows that communication through music is a common trait shared throughout the universe.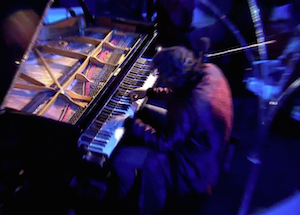 In pre-release interviews, Spielberg said that, « This film will only be successful if, when people see it, they come out of the theatre looking up at the sky. » Whether literal of figurative, Spielberg's goal was to fill viewers with a sense of awe and wonder about the world around us. Music can have the same effect – especially from the skilled and deeply passionate group of musicians that played on top of Devil's Mountain on a rainy Berlin summer night. The beautiful futuristic music of Octave Minds rises from the top of a mountain of history, built on the ashes of the past, and their eyes set firmly on the future, Gonzales and Boys Noize bring new life to music. The feathers of Stravinsky's Firebird fell to Earth as the bird itself died in the clutches of an evil wizard-turned-falcon. Each feather planted itself and lived on to show themselves to those who love beauty, and show beauty to others.