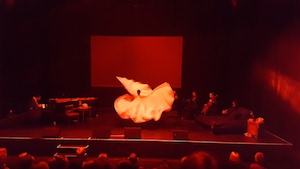 Reflections on Perceptions and Projections
We are in Hollywood. At one of the probably most legendary hotels of the world. The Chateau Marmont. People famous and ordinary have come here for decades to escape, take drugs, love, hide, fuck, destruct or even kill themselves. A vanishing beauty, whose charm has survived, but whose facade fades. Zoom into Room 29, where Chilly Gonzales makes the piano, which has been there for decades, tell the tales of times long passed, and where Jarvis Cocker translates tunes into deeply resonating words – into a reflection on perception. We are at the stage and album premiere of contemporary song cycle Room 29 at Hamburg's Kampnagel.
In times when leaders of nations once great live in a bubble of their own believes, lie about anything controversial and accuse the counterbalance of any democratic system of faking news, the famous question of "what is reality?" has become more relevant than ever. Room 29 plays with that question on two levels. Encapsulated into the room with a view on history and flamboyant personalities it challenges one's own perceptions and projections. Set into Hollywood, the "Dream Factory", it de-disguises an industry that is more like a reality "fake-tory" that has been paving the way for "the media" of today. The "big screen" of the cinema being downsized into TV, a format that has numbed generations and that itself has been downsized to smartphone screens through which we see the world sugarcoating every day life with pastel filters and Photoshop finishes. These days, we don't only talk, but even mate via our devices. Where Howard Hughes used a telescope pointing not to the stars, but to the starlets in the pool to fish for company and "casting" girls, 21st century 20-somethings swipe on a screen and seemingly swim in a pool of possibilities just with a touch of their hands. On cold glass. Virtual insanity – as Jamiroquai sang already in the 90s. Writing this (on my tiny cell screen), one reason for the lack of photos accompanying this post was my reluctance to even think of using my cellphone during the show.
Jarvis Cocker is a gifted storyteller. Articulate, intimate, with charm and wit he lets you sit on his hotel bed and glues your attention to his lips. And hips. At the same time, Chilly Gonzales' sensitive piano play opens the listener's heart, so Jarvis' words can enter. Two entertainers, nerds in the most positive sense, form a symbiosis of sensation. Supported by poetic pictures in the background and reminiscences to the aesthetics of Old Hollywood, they create a perfect illusion themselves. An illusion climaxing, when Maya Orchin magically appears for an iridescent dance with our senses. It's all just a "Trick of the Light" Jarvis sings and creates another Gatsbyesque motive. The inherent human cry for immortality and the power to turn back the hands of time.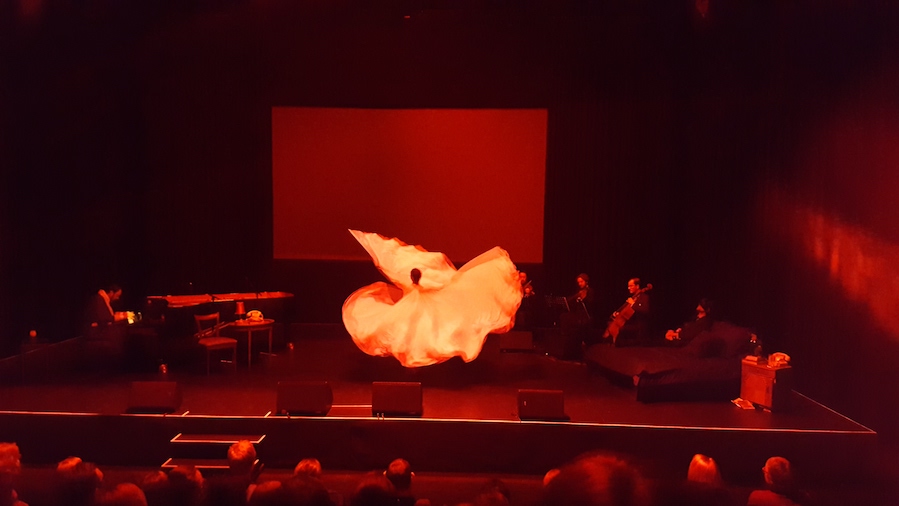 The touched topics may be of philosophical nature and examinig some mysteries of our existence, the presentation however is full of wonderful dark humour and moments of laughter fed by the partly improvised interaction of the two. Be it Gonzales explaining Howard Hughes erectile disfunction in German or Jarvis directing a "screen test" with an audience member who was before hand-picked with the zoom of a camera. The intellectual effect sets in almost imperceptibly, but with a lasting impact. Voyeurism through a key hole and key-board turns into an exhibition of best bits by someone dressed in a bathrobe and someone who's not short of ambiguous metaphors and puns. The sophisticated version of Siegfried & Roy in music, masters of (dis)illusion, whose rare breed of inner white tigers unleashed have performed an elegant pas de deux that is entertaining, enjoyable and art at the same time.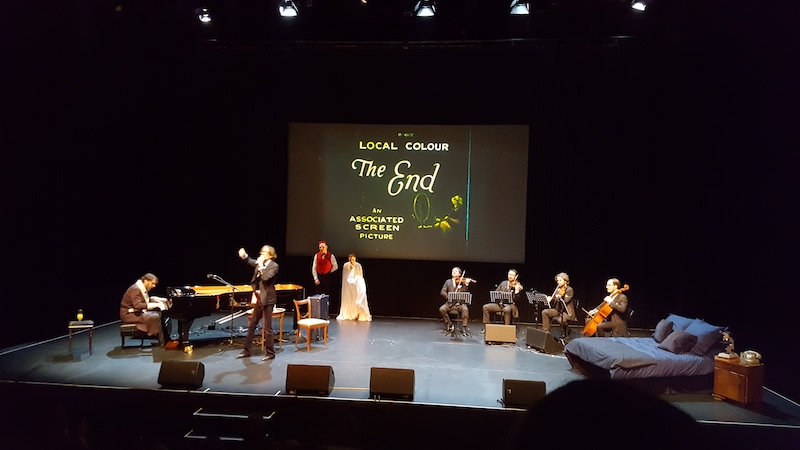 And as always in hotels, the check-out time comes too early. After the epilogue (an amazing cover of Leonard Cohen's "Paper Thin Hotel" as an encore), the Chateau Marmont spits the guests out onto the rainy and stormy streets of Hamburg. Hollywood can be very cruel.