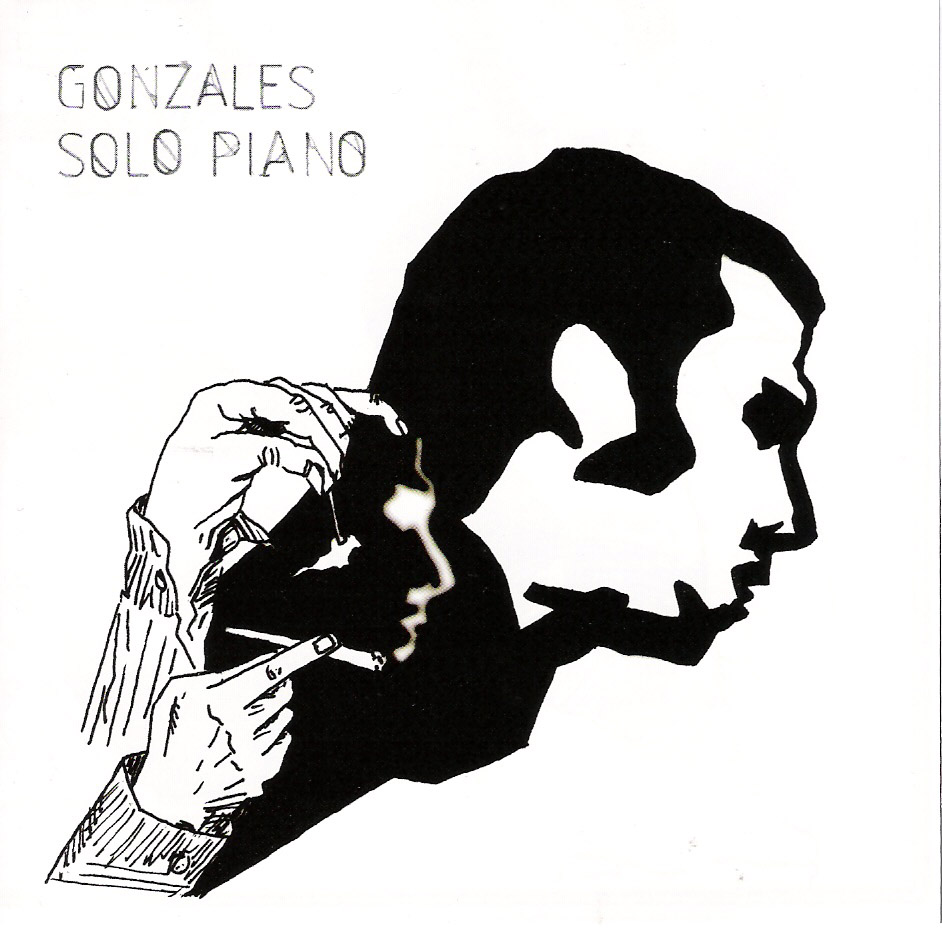 Simplicity is the final achievement. After one has played a vast quantity of notes and more notes, it is simplicity that emerges as the crowning reward of art. – Frédéric Chopin
10 years ago, in the fall of 2003, Gonzales began composing a series of short songs for solo piano that would eventually redefine his career and expose his music to a worldwide audience. Disenchanted with his role as producer for French icons such as Jane Birkin and Charles Aznavour, the recent Parisian transplant transformed his feelings of isolation into piano pieces that combined the emotion of Ravel, Debussy, and Satie with the pop sensibilities of Michael Jackson. The resulting album, appropriately dubbed "Solo Piano", seemed to represent a radical departure from his previous ventures, which were more closely associated with prankster rap and hip-hop.
If those counterintuitive moments have taught me one thing, it's that it's been the piano that has brought me everywhere. Gonzales
Many people who follow Gonzales know of his piano 'interpretations' of songs from artists such as Daft Punk and Feist, and those versions should easily convince anyone that a good song can be expressed in many different ways – each appealing to different groups of listeners. In that regard, Gogol could have just as easily been expressed as a techno-banger, or Candy could just as easily become a solo piano piece. Regardless, the choice to express these musical ideas on solo piano turned out to be a brilliant one. Still, there is an unspoken paradox in entertainment, which raises the question: "How can someone who seemed solidly entrenched in rap, electronic, and alternative music turn around and create an album as ethereal as Solo Piano?" In Gonzales' mind, there is no paradox; there's no clear line between solo piano and any other song he composed. The difference mainly exists in the mind of the listener, who associates a stripped-down sound with purity or timelessness. So it is just an illusion that a solo piano album represents the 'true' Gonzales.
Also, Gonzales mentions that he doesn't hear music like most of us do. His mathematical view of musical structures and relationships seem to quickly deconstruct a song into core elements and relationships between these elements, which may be why he didn't see a solo piano album as such a radical departure from his previous albums. The reality may be that he had many musical ideas floating around in his head, and he chose to express them on a piano rather than bury them in over-produced music. Gonzales has said that with a single track and single take, he can't hide behind multi-track mixes and edits; the creation of solo piano music is far more challenging than programming a synthesizer or employing an editor.
I think you have to adapt to things, because when you preserve something, you kind of admit it's dead. But if you adapt it, it has a chance to survive. Gonzales
Adaptation in Solo Piano meant using old and new world sensibilities borne from a wide variety of nature and nurture sources: A Montreal childhood, a father with a 'hustler' mentality, and a European music snob grandfather. In short, an old-fashioned skill set combined with pop-based experience and upbringing. Composers such as Ravel, Chopin, Satie, and so on couldn't possibly have realized songs such as Candy, yet the fact that Gonzales already had 10 years of pop-writing experience and performing under his belt meant that for a brief moment in time, the modern nexus of classical and pop resided in a studio apartment in Paris. Composing and refining the pieces down to the "musical millimetre", Gonzales was finally ready to enter the Studios Ferber in Paris to record in late 2003/early 2004. The eventual result of the studio sessions, were 16 pieces spanning just over 40 minutes, with lengths from 1:26 (Oregano) to 4:34 (C.M. Blues) – lengths generally reserved for 1950s radio pop ditties.
The fact that he used an old upright piano for the recording session was truly unconventional. The tonality on Solo Piano vastly differs from what most piano recording artists strive for. Instead of 'hiding' behind a grand piano, Gonzales worked wonders with a 1960s Yamaha U1 – squeaks and all. Compared to a grand, an upright is unforgiving in the studio; hammer, action, pedal, finger (nails), and performer noises are all captured, since the microphones cannot be placed far from the artist. Yet all of these elements serve to convey a much more accessible and intimate sound. The majority of listeners love these sounds, yet one in particular did not:
@pingouinucleair you really can't stand finger noises on the piano? live with it ! Music isn't a ken doll without genitals!

— chilly gonzales (@chillygonzales) December 23, 2010
It's difficult to imagine conveying a sense of intimacy from a Steinway grand. Majestic and sonorous as grand pianos are, their deep bass and rich harmonic range represent opulence and richness as opposed to warmth and familiarity. Indeed, there are few children who can claim that they started playing piano on a grand, and early images of Gonzales playing an upright piano can be seen in the Solo Piano notebooks.
On dit que le piano est l'instrument qui permet de suggérer le plus grand nombre de couleurs, il est pourtant noir et blanc, comme un vieux film muet. Fixant mes deux mains du regard, j'imagine que chaque pièce est une ombre chinoise se déployant sur un mur. Gonzales
Although they say the piano can create the most colors of any instrument, it is actually black and white, much like an old silent movie. Staring down at my hands, I imagine each piano piece as a shadow against the wall. Gonzales
Those words, found on the liner notes of Solo Piano, give a sense of what the musical creativity process must be like. When someone is born with the gift of musical science and shares that gift with the rest of the world, the result can literally change people's direction in life. That's a very powerful concept; Gonzales shares stories of people expressing thanks for creating Solo Piano – whether it helped someone through a rough part in their life, or motivated them to change careers, or simply helped them realize that they should have stuck with piano lessons, and are taking up the piano again.
As usual, Gonzales was more than happy to share his compositions in other ways; through two volumes of Solo Piano notebooks, and countless live performances where his Solo Piano songs began to change and grow like children. The success of Solo Piano undoubtedly moved Gonzales in new musical directions, and eventually became a link to other artists such as Drake, who was a self-professed Solo Piano fan. An upcoming series for lapsed piano students will also be a natural follow-on for the thousands of people who were motivated by Solo Piano. What initially seemed like a risky venture, ended up creating new opportunities for Gonzales, and maybe that's another lesson from him: if you feel that there's something in your life that has 'brought you everywhere' – embrace it, and take a chance. You might be surprised at what you discover along the way.
Gonzales once mentioned that he would have probably been a political speech writer if he hadn't become a musician. As it turns out, Solo Piano became one of his more powerful and motivating speeches. The songs evoke an emotional response unique to each listener, each representing a chapter in a story that transcends artificial barriers such as language and nationality. It is a speech far too beautiful to be sullied by mere words, and will be studied and played well beyond its 10-year anniversary.