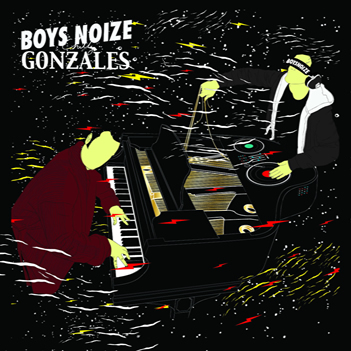 Ivory Tower was a great melding of Gonzales' lush piano and Boys Noize's driving rhythms, but rather than being a one-off project, it seems to have been just the beginning of a longer-term collaboration.
Gonzales has dropped a recent hint regarding an upcoming release:
Drafts of announcements are circulating. Titles being focus-grouped. Proofreaders working around the clock.

— chilly gonzales (@chillygonzales) March 21, 2014
Let's see if we can piece some snippets of information together and predict what Gonzales is up to.
Prior to Gonzales' tweet, Alex Rida (Boys Noize) tweeted a selfie of himself with Gonzales working away in the background on a grand piano.
PIANO NOiZE with @chillygonzales pic.twitter.com/iUgHpwt1Ok

— Boys Noize (@boysnoize) March 1, 2014
Recording on grand piano usually means a larger, more bombastic sound as opposed to an intimate upright, and working with Boys Noize usually means augmented electronic dance sounds and thumping rhythms. In an interview with dummymag, Gonzales spoke about his collaboration with Boys Noize during the making of the Ivory Tower album:
I also started to think about the movie, and I knew if I was going to make an album where I could lift a lot of the burdens that was going to give me the energy to do something as big as the movie as well….I purposively wanted to find the ultimate modern partner, the guy who I felt in 2000 if he had existed wouldíve been me. And that was Boys Noize.
…the parts that you hear that you think must be Gonzo – the pianos, the flutes, the little melodies, and the girls' voices – yeah, that's what I sent. And the stuff you think is Boys Noize: those nice claps, those semi-bonkers compressed noises, that's him. It was just peanut buttercups; you take chocolate and peanut butter, it just tastes good together, nothing more than that.
Alex has only great things to say about his collaborative efforts with Gonzales (from Timeout Shanghai):
I really loved working with [Chilly] Gonzales on the Ivory Tower album. He is a genius and the album was so much fun. Generally I love to work with people that inspire me as well.
On the "Working Together" remix (from ClashMusic):
What a great guy! He asked me to do this after he heard my Feist remix but of course I couldn't do anything similar. He liked what I did and asked me if I would be into doing a full album with him. That's how 'Ivory Tower' was born. So happy, so lucky!
On Nov 30, 2013, Vice magazine interviewed Alex and he dropped some hints of a collaboration with Gonzales:
I've also had some amazing moments in the studio lately with Chilly Gonzales who I've been working with on a new project. The only person who I've played it for is Thomas [Bangalter] from Daft Punk, and that was a big moment for me to hang out with him and show some of my new material.
With confront magazine (Dec 2012):
I'd like to make another album with Chilly Gonzales, I produced with him "Ivory Tower", and I'd like to do another album with him.
On March 4, Sonar indicated that Boys Noize was working together with Gonzales:
Right now he can be found working on a new EP and special projects together with Chilly Gonzales, Baauer and Mr. Oizo.
Prediction
The signs are right for a new Gonzales/Boys Noise production, but what will it sound like? After Solo Piano, Gonzales returned with the "misunderstood masterpiece" Soft Power. But "the customer is always right", as Gonzales tends to say, and he ended up explaining his mis-read of the audience by releasing a 'retro' dance album. It's possible that Gonzales seeks vindication by releasing a follow-up after Solo Piano II that will drag the piano into the future of dance music. Gonzales wants to be a man of his time, and Boys Noise certainly has the right sound for today.
We anticipate Ivory Tower on steroids – piano chord harmonies and sequences that will simultaneously move your feet and touch your heart, catchy melodies underscored by driving beats, wrapped in an unbelievable electronic-infused environment. Some of the tracks may be instrumental (possibly backed with a chamber suite), and some may have Gonzales' humorous (but touching) lyrics, and there may even be a solo piano track, or even a preview of what's next on Gonzales' musical mind.
Of course, we could be completely wrong, but regardless, Gonzales has been full of 90-degree turns throughout his career, and we don't expect him to stop anytime soon. In the meantime (to tide you over), check out these Ivory Tower bonus tracks in Canada (Smothered Mate Pianopella) and Japan (There He Is).