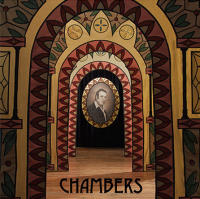 It's almost Valentine's Day (or Saint Valentin), and Gonzales is showing his fans some love through a Chambers pre-sale on his website along with an instantly downloadable track off the album. Also new in the store are two music boxes: a hand-crank box that plays Solitare, plus a wind-up version that's available as part of a Vinyl and CD package. Gonzales has also released the full track listing for the album within the images on his store. Finally, he's offering a webstore exclusive bonus track that will not be available anywhere else: (Not) A Musical Genius. The album artwork extends what we saw in the teaser trailer: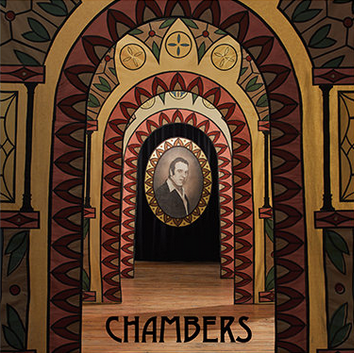 At the end of the series of arches our eyes are drawn to Gonzales' classic oval charcoal portrait placed just in front of the curtain. After thinking more about the arches and curtain and listening to the previews on the BBC, it would appear that Gonzales wants us to travel through levels of thought and imagine what's behind the curtain. The arches could represent deeper 'chambers' within our mind – accessible only through music. We can form our own image of a piano + quartet, or an idyllic scene, tennis match, a play/musical, or anything else Gonzales' music conjures. Gonzales is the 'gateway' to what's behind the curtain, which creates an association between the music and our personal imagery. The curtain in a theater divides fantasy from reality, but it's someone else's fantasy. In Chambers (at least what we've heard thus far), Gonzales' music is so evocative, that we end up creating our own personal and intimate 'mental' play.
Naturally, we pre-ordered the Chambers vinyl + poster + CD + Solitaire wind-up music box and were instantly able to download Freudian Slippers, with Sweet Burden available on February 24th and Odessa available on March 11th. After the purchase, a download link appears, which transfers a zip file to your computer/device (don't worry if you miss it; the link is also included in a confirmation email). Within the zip file are two files: a 44.1 Khz, 320 kb/s MP3 of Freudian Slippers (with a custom image):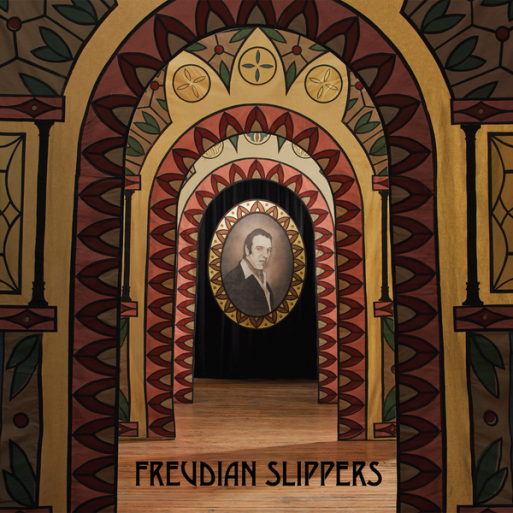 There's also a hand-written letter discussing the track. To explain the letter, we found a series of letters, plus a cover page on Gonzales' Sandbag store (just scroll though the images):
Images 3-5 are letters from a Professor (whose signature we can't clearly make out) to Gonzales. Image 3 is a personal letter to Gonzales, Image 4 is an overview of Chambers, and Image 5 is identical to the image provided in the Freudian Slippers zip file. Within the Vinyl order information section, we also found a write-up for Solitaire – the song on the music box, which can also be purchased separately as a hand-crank unit. Suffice it to say, the letters provide insight (musical and otherwise) into the album, and (apparently) each track. The letter for Freudian Slippers relates the composition to other Gonzales songs that deal with duality, and Freudian Slippers certainly sounds like it has two distinct personalities. Now that we've heard the entire 'officially released' song, we'll gather our thoughts and develop a future post. The letter for Solitaire speaks to Jungian and Freudian concepts of the mind and what it means to be alone in thought; very insightful, and we can't wait to hear the song.
If you're trying to woo a music fan, or if you already have a fan in your life, a Chambers pre-order + Freudian Slippers would be a lovely thought for Valentine's Day: we know we'd sure appreciate it. Until then, we've spotted an ARTELounge concert special with Gonzales and the Kaiser Quartett coming up on Feb 22nd: we'll be sure to have a review.
Check out our Arte Lounge TV broadcast @chillygonzales on Feb 22 at 11:45 PM https://t.co/RKVhoOBGFL

— Kaiser Quartett (@kaiserquartet) January 28, 2015