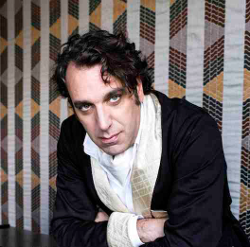 With the rising popularity of music streaming services, "Greatest Hits" albums are on the decline, which is a shame really. The art and science behind a "Greatest Hits" album will become somewhat of a lost art. The vast majority of the time, typical hit compilations contained one or two new songs in order to attract old and new fans to the artist. Current fans gain a new track (which was often lackluster), and new fans would be able to enjoy all of the artist's hits in a single album. In 2002, Gonzales released a "Greatest Hits" album of sorts: "Z". What made "Z" different was that each of the songs was "re-imagined", as opposed to remixed or re-recorded. The new versions imagined how an older, more experienced Gonzales would have recorded the songs.
15 years, 10 albums, and hundreds of production and guest musician credits later, Gonzales hasn't re-explored the notion of a "Greatest Hits" album, so we thought we'd approach the subject from a slightly different perspective: someone who is completely new to the music of Gonzales (a 'noob', so to speak). Of course each Gonzales track is unique and has an interesting story to tell, but we'll limit our curated compilation to 10 key tracks that best exemplify Gonzales' talent, persona, humour, and musicality (in order from oldest to newest).
1. Let's Groove Again
From Red Leather (unreleased), The Original Prankster (EP, 1999), and Über Alles (LP, 2000)
"Where it all began"
The very first sound on the track is a 'gong' (or tam-tam) being struck, which is incredibly symbolic. Berlioz recommended using the gong to mark scenes of mourning, and gong hits were traditionally used to call workers back in from the fields or to start a sumo wrestling contest. All of these could potentially apply in Gonzales' case: mourning the loss of his 'artist' self in his native Canada, a call to come back from toiling in indie rock and move to Germany, and the start of a fight between Gonzales and the music industry. In his own words:
[This was] a challenge to myself to actually get overseas, setting a deadline of "this time next year". I wrote it in October 1997 and barely made the deadline, moving to Berlin in September 1998.
For many of Gonzales' longtime fans, this is where it all began: Germany in 1999 with Peaches. And yet, the wandering organ melody and lowering tone at the end of the phrase "Let's Groove Again" seem to imply that he was still seeking something. That 'something' would take a few more years to materialize.
Runner-up: Also from Über Alles would be the inspired Why Don't We Disappear, which was written with French chanteuse Françoise Hardy in mind at a time when Gonzales was fascinated French pop songs (he may still be). While Gonzales eventually met her in New York, she didn't end up singing on Über Alles.
2. Take me to Broadway
From Presidential Suite (LP, 2001), The Unspeakable Chilly Gonzales (live with orchestra) (Digital Download, 2012)
"Set your goals high and work your ass off"
A mainstay of Gonzales' concerts, Take me to Broadway seemed to encapsulate his plans to "hit 'em with a sad song", and "I'm ready to fight" – ready to do what it takes to entertain the audience (within a love/hate relationship). The infectious melody is laid over audience applause and a steadfast 'flute' sound, all wrapped within a bouncy beat. The song title and inspiration came from his friend Mocky. As Gonzales explained:
[Take me to Broadway is] Mocky's title – the real original was an improvised solo performance of drum machine and vocals. Sample lyric, "Late last night as I crept into the hi-hats". When I was younger I wanted to write musicals for a living, not to perform in them. Only later did I get addicted to being onstage.
We're not so sure that Gonzales shook off the "musical" bug. Recent evidence points to a "John McEnroe" musical that will hopefully see the light of day at some point.
Runner-up: Starlight from Presidential Suite. There may be a component of "revenge" on this track. Gonzales indicates that this was The result of an assignment to write a "jazz standard" in music school, 1993. I got a C grade. Obviously a great song, and possibly placed on the album as a gesture to his music school 'haters'; a concept Gonzales explores in-depth a few years on.
Another Runner-up: Decisions, which is a fantastic description of corporate aspirations, partially modeled after a play Gonzales and his brother wrote: The title and original hook is recycled from a musical I wrote with my brother called "The Nose", based on a short story by Gogol. The lyrics talk about business culture, not so much the coke-snorting music business, but the less glamorous executives of finance and infrastructure. Gonzales recitative delivery is flawless.
3. Dot
From Solo Piano (LP, 2004)
"Musical fantasies and staying power"
For years, Gonzales would ask the audience, "What do you want me to play?", and invariably, the answer to that question was Dot – a definitive song off of Gonzales' original Solo Piano album. Dot incorporates an accessible (and addictive) pop music melody within an adventure across the keyboard. The metronomic left hand keeps you grounded, while the right hand goes off to explore. Eventually, they join in beautiful harmonies and start the adventure all over again. Live versions have morphed into sweat-inducing events – worthy of the price of admission if Dot was the only song Gonzales played. Combined with PianoVision, Gonzales' hands become characters in a fantastic play, creating and simultaneously accompanying their own soundtrack. Gonzales explains musical fantasies:
Music doesn't speak for itself," he says. "Music is a fantasy world and you have to show people who you want to be. That's what's beautiful in pop music, this idea of authenticity. The real pop musicians and certainly the rappers, they understood long ago, authenticity is not something you show. You show your fantasies and through that people can connect and identify. And that's the most authentic experience of all.
After Solo Piano shows, critics were blown away, but couldn't help by wonder what was holding Gonzales back: "Show him the easy way and he'll find a detour." That's what they concluded. But that's a massive oversimplification; Gonzales appears to have a much larger, more noble goal in mind – one with the ultimate in longevity. Instead of simply pandering to an audience, he seeks to share, educate, and enlighten to show the true beauty of music. That's an uphill climb, but Gonzales is patient and persistent, and for the fans he attracts, there's no one in the industry quite like him.
Runner Up: Gentle Threat – Gonzales loves wordplay, but his contradictions also extend to his compositions, where lighthearted and soft melodies are countered by seemingly dark and foreboding chords. The sweet-and-sour approach appeal to both sides of our brain simultaneously – musical cocaine. This title worked so well, he named his company after it.
4. Unrequited Love
From Soft Power (LP, 2008)
"Is this the 'real' Gonzales?"
This song has so many elements and levels, it's difficult to appreciate all of them while listening. From the opening glissando, the song dives right into a solid 60s rock rhythm and bouncy late 70s octave bass, not to mention plenty of piano – everything from honky-tonk to salon, to modern – and it all works unbelievably well together. The doubled up beat before the breakdowns add a sense of urgency to Gonzales' message of unrequited love. The breakdowns change the song from a driving mantra (as if he's trying to convince himself) to dreamy piano and flute (where temptation and true feelings really take hold). There's a blend of French pop, American rock, and classical that really stands out for us. To this day, every time I play a descending glissando on the piano, my kids shout, "Unrequited Love!" Well, no one should be worried that this track won't love you back – it absolutely does. It's unfortunate that the amazing Soft Power album isn't highlighted more often.
Runner Up: C Major
If you've studied the Re-Introduction Etudes book (you are practicing daily, right?), you know that Gonzales like to create little 'games' or 'challenges' on the piano. For White Keys off of Solo Piano II, his goal was to create a song that wasn't overly optimistic on just the white keys (hint – it's in A minor). Here, C Major imparts a sense of peacefulness – it almost feels like something you would hear in a southern US gospel choir. The piano breakdown at the mid-point evokes one of Scott Joplin's softer numbers (like Bethesda), then the soft, muted keys at the end of the song along with melodica lull us into a dreamlike state. Beautiful.
5. Knight Moves
From Ivory Tower (LP, 2010)
"All musicians should take up drums"
The first time you hear Knight Moves, you think, "This is the first thing I want to hear when I get up in the morning and stare out the window." It's beautiful, inspirational, and prepares you for the challenges you'll face. Play it anytime – things suddenly seem to have a different quality to them. That the power of music. Part of this power comes from an underlying rhythm that Gonzales has from his experience with drumming. In reterospect, all of Gonzales' experience adds to his unique set of skills and the unique sound that is carried intrinsically within him. Gonzales switched from piano to drums for a number of years:
I was really hyperactive and hitting things seemed to be the best antidote.
Eventually, he switched back, deciding that:
I should be able to have traditional tone in my instrument as well, as opposed to just rhythm and the abstract tones of a drum set.
As it turns out, Gonzales' drumming ended up forming part of his trademark piano sound. Try setting a metronome to his piano playing – it's absolutely on time. On Knight Moves, Gonzales has a choice of 88 drumsticks playing 88 different drums – up to 10 at a time (and sometimes more), so it's even an even better outlet than drums for hyperactive people.
6. Melodica
From Bande Originale (Book and CD, 2010)
"The international appeal of Gonzales' music"
From the relatively hard-to-find Bande Originale (included with the cookbook of the same name), comes a dreamy and melancholy composition that sees Gonzales bring out his ingredients: melodica, piano, strings, hi-hats, cymbals, and flutes to create a wonderful aural treat. The master chef Gonzales combines Eastern-sounding strings with Western piano and European melodica for an international dish. The entire album is a fascinating look into how Gonzales turns disparate and eclectic instruments into wonderful songs, and well worth seeking out.
7. Self Portrait
From The Unspeakable Chilly Gonzales (LP, 2011)
"The original rap genius"
The writing, music, puns, and originality on The Unspeakable Chilly Gonzales all point to a musical genius hard at work. References to Oscar Wilde and the need for re-invention overtop of a Tubular bells-like theme set this song apart. Each play brings out a different interpretation, element, and meaning, and maybe that describes Gonzales – a musical chameleon. And then there's Gonzales' love for rap, which shines through. In his own words:
Rap is a style for me and those stylistic devices are there to be used. Purism is dangerous and often leads to a dead end." "And I was attracted to rap because it's the musical language of projection: telling people what you want to be, and how you'd like to be taken.
Runner Up: Supervillain Music
Gonzales' foray into orchestral rap had to delve into something slightly more esoteric, and choosing an unusual rap time signature of 6/8 would definitely fit the bill. In an early performance of Supervillain Music (at Pete Tong's 20th birthday celebration), Gonzales explained that 6/8 was just a doubled-up waltz, but it was unusual in that you could also overlay a 4/4 beat on it (and he proceeds to demonstrate). Chance the Rapper followed in Gonzales' footsteps by rapping over the 3/4 (or 6/8) song Tap Dance on the incredible Gonzales & Boys Noize Octave Minds album. Combining an old waltz or swing beat with modern rap certainly makes Supervillain Music a standout track.
8. Kenaston
From Solo Piano II (LP, 2012)
"Go back to where it all truly began."
Remember that warm sunny spot in your childhood home where you could relax, read and dream? Gonzales captures wonderful childhood moments in this homage to his childhood home on Kenaston St. in Montreal. We spend a portion of our lives trying to re-create those childhood feelings, and Gonzales perfectly captures them in a solo piano composition. There's a component of the song that also allows us to let go – to grow up, and it's positively cathartic. And you always wish the song was longer, but as it turns out, it's exactly as long as it should be.
9. Pleading the Fifth
From Re-Introduction Etudes (Book and CD, 2014)
Simultaneously simple and complex, Pleading the Fifth is a wonderful composition that shows how accessible Gonzales' deep emotional compositions can be. Playing the same keys that Gonzales has played forms this visceral connection to the music – you feel and hear the music that Gonzales composed. To top it all off, it's not from a composer who lived 100 years ago either – you can even send him a question within a Tweet, and he may even answer it – how incredible is that?
10. Freudian Slippers
From Chambers (LP, 2015)
"A modern chamber adventure"
Freudian Slippers is the first official preview from the upcoming Chambers album, and it's incredible. A journey though the mind, we feel desperation and eventual elation in the music. Maybe it's a happy tale of overcoming obstacles and ending up on top, or maybe it's a warning to not delve too deeply in bad habits, but regardless, the journey is just incredible. Gonzales provided some clues in a recent interview:
Playing piano in your living room kind of democratized music, and the time is right for chamber music to make a comeback because, of course, anyone can make music on their laptop. The laptop has replaced the chamber, but in the the end, music is for everyone who want to be a chamber musician.
Symphonic music is an army and it is meant to overwhelm – you hear the composer's giant presence, but you don't hear people playing like in a Jazz combo or rock band. Chamber is like a trio or a chamber quartet or even a sonata with just piano and flute. That's all chamber music – chamber music begins when there are more than two people and up to where you lose track of the musicians – maybe around 15-20 people. Then it ceases to be chamber music. For me, the important part is when you see chamber music (my music or others) what you will see is sound coming from an instrument and you see the person's face and you get to know them and you associate the sound – ah, when it goes "pgggt", it's that guy – and the clarinet – you see it's the girl, so over the course of a two-hour concert, you sort of get to know the protagonists – famously, people say that a string quartet is the equivalent of an intelligent conversation around the dinner table. That's a good description of chamber music – because you hear people – I don't like music that feels like an army is marching – prefer to have just a few people struggling to survive.
Final Thoughts
There was an interesting technology article a few years ago where technologists and futurists discussed how much storage it would take to record every moment of a person's life – video, audio, documents, and so on (a few petabytes, apparently). What's striking is that in some ways, Gonzales has managed to store a lifetime of emotions and thoughts within his music. With over 20 years of recordings, it's possible to piece together (and even play) key moments in Gonzales' life. In Self-Portrait on The Unspeakable Chilly Gonzales, he rapped: I should write down my whole life story / Chilly Gonzo, memento mori. If you listen carefully to his songs, he's been writing down his story all along.