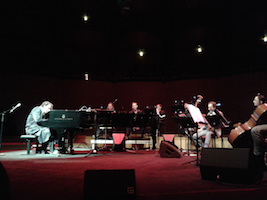 Just imagine you were coeval with Händel or Mozart and wanted to listen to some music. You would only be able to choose from a selection of three possibilities at the most: go to a concert hall, make music yourself or in case you had the privilege of noble birth, enjoy it as part of the courtly cultural life. Fortunately, nowadays music is always available and repeatable. Still, it felt as if storage data devices haven't been invented yet, when Chilly Gonzales played the Kölner Philharmonie on December 29th. He introduced so many new, yet unfortunately unpublished pieces that it was a real treat and indulgence, but at the same time evanescence and the knowledge of singularity were omnipresent. The Faustian verse "If to the moment I shall ever say: 'Ah, linger on, thou art so fair!'" could have been the epigraph to this final concert in 2012. Or was it a pointer to the future and into the direction of "more orchestra"?
Already before the concert there's a hint of uniqueness in the air and a hunch that this night will be special. Many ticket seeker hold card boards against the wind and towards the arriving audience in the shadows of the intimidating giant called Cologne Cathedral. The hand inevitably clenches the own ticket even tighter. The venue, Kölner Philharmonie, is sold out from first row up to the roof. That is because on the one hand Chilly Gonzales thrilled the "Colognians" almost exactly one year ago and on the other hand because he has become a "Colognian" himself in the meantime – a home match, so to speak, with the back-up of a chamber orchestra. He doesn't make a secret of his love for the city. Accordingly, he spoils his fellow citizens that very night. First he candies himself into people's ears by playing a beautiful version of "Kenaston", dipped in pink light, and then a bluesy "Minor Fantasy" version. "Train of Thought" becomes an educational piece, as he explains the chaplet of chords, the arpeggio. Finally, the co-stars enter the stage: "Strings Deluxe", with whom he also played the live-streamed and recorded show at Palais de Tokyo in Paris earlier this year and who will be joined by "Friends" later, clarinet, flute, French horn, trombone and Joe Flory (Amateur Best) on the drums.
Whoever thinks a solo entertainer like Chilly Gonzales does not blend in well with many teammates, errs. In fact, his compositions benefit from the multi-instrumentalization and gain additional depth. Melancholy, minor and a Slavic "heaviness of the heart" are embedded in many of Gonzales' pieces and especially the strings make them sound extra tear-jerking. Like "Goodbye, Hero", which was his first composition in Cologne and therefore first played here. Despite being written in a optimistic and joyful spirits after his arrival, the sad sounding piece wasn't about the rain or intolerable food in Cologne, he jokes, but a "funeral song" for the city he lived in for such a long a time, a requiem for Paris. The first fiddle really plays the violin here, so woefully wails Adam Zolynski's instrument over the almost modest melody.
Another short clarinet concert is meant as an ode to the (bass) clarinet, which he obviously has a soft spot for, according to a previous tweet and what he says on stage, but it's again the strings that play the starring role. They also make "Armellodie" of the first Solo Piano album even more moving. The piece is another example for Gonzales' ability to "minorize" major – in this case not to transpone it into minor, but to make a major piece sound as if it was written in minor (also listen to "Chilly in F Major" and "C Major").
Intermediately, the sequence of songs crescendos every now and then, for example when he raps the orchestra-boosted "Supervillain Music" or blends "Evolving Doors", which is dripping with Bachian ornamentation, into the extra-testicle, no: extra-terrestrially great "Take Me to Broadway".
The actual highlight of this evening for sure is the premiere of his "Chamber Music Concerto", which is more like a pseudo-premiere or the variation of one. The two movements were part of the "Piano Concerto No. 1" in four movements he already performed with the BBC Symphony Orchestra in autumnal London.
Gonzales announces that the first movement is a Sarabande, which dates back to Baroque court dances, and the second one a Jewish Dance, which is characterized by a Klezmer-related scale my brain saved as the "Socalledian Scale" (Gonzales played a version of Socalled's "You Are Never Alone" during his Guinness World Record and he repeats a short sequence of it in the 2nd movement). This wasn't only supposed to be a cultural roundelay, but also a competition between piano and orchestra – at least seemingly. Gonzales announced the piece by revealing the imperfection of the piano compared to other instruments and called his instrument "Schwächling", which translates as weakling. For example, the piano can't hold a note for long, the sound fades away pretty quickly compared to string instruments. To imitate this effect, the piano player has to use ridiculous trills – which is never quite the same. Or it lacks the possibility to modulate a note by using certain breathing/blowing techniques. Of course, Gonzales also has a "but" in his pockets: A piano player can simultaneously perform different melodies and rhythms. To illustrate what was said he lets single instruments play solos. When the trombone player uses his chance to intonate "Chariots of Fire" – one of those love-hate-songs Gonzales loves to play in minor instead of major – it doesn't only sound simple, but also challenges Gonzales sharp tongue and he asks the musician if he already dreams of 50,000 sold "Solo Trombone" copies.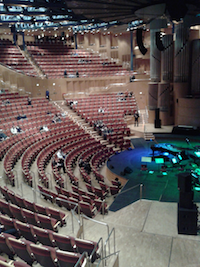 When the work finally raises it becomes obvious that it is not the least about a Gonzalian competition, but about harmonic and masterful teamwork – much like the whole concert. Watching Gonzales exchange almost invisible signs with the fellow musicians and how much he seems to enjoy the performance and interplay, makes the scales fall from the eyes: Nobody gets more often misjudged and wrongly portrayed than Chilly Gonzales. As his appearance is always self-confident, his humour rarely reserved and his early European past shaped by cleverly acted, good publicity megalomania (amongst other things), he is often called an Egomaniac, meaning someone who pathologically tries to be the center of attention. Following his career and media presence, an almost noble and at a second glance modesty becomes obvious. He supports musical talents, takes a back seat when someone puts the spotlight on a great success for which he significantly contributed time, skills and genius (e.g. Feist), always seems to be secretly there for his musical family and friends and who emphasizes the importance of joy when it comes to music – which is lies in "making music together". The latter must have been of great importance at the Beck mansion: old Wagner obsessed Grandpa helps the youngster exploring the piano and big brother sits down with the littlun to play music as a duo or later compose. All of this comes to together with an extraordinarily love for the audience and listener that sometimes even might overshadow own needs.
Self-consciousness means to know the own strengths. Even more, to know the limits and weaknesses. Europeans unjustly tend to see self-consciousness as something negative or even threatening. Chilly Gonzales so-called megalomania always orbits the origin of his prowess: the piano. When he thinks someone is better at something, he gets experts on board. Like the older brother again, who became famous in Hollywood as a soundtrack composer and might have more experience in arranging scores for "orchestral rap" ("The Unspeakable). Or electro-whizzkid Alex Ridha (Boys Noize), who produced "Ivory Tower". The man, who calls his albums "Solo Piano" and so far mostly shared the stage with nobody but himself, actually is a passionate teamplayer and not a lone wolf(stein). And he always has been. It is only a logical consequence that he now dedicates himself to orchestral music. Kölner Philharmonie may look like the modern interpretation of an amphitheatre, the setting for cruel gladiatorial combats, but it actually turned into an arena and maybe "home base" for the etymological and literal beloved harmony. The great acoustics add to it, the impressive hall gathers the audience around the artists and creates a certain intimacy despites its size. At the end 2,000 thumbs turn invisibly up and the crowd jumps to its feet after the encore – amongst other "Cello Moment", a conversation between cello and piano.
And the not only figuratively, but also sizewise great Chilly Gonzales stands in the middle of all the musicians, holding a delicate bouquet of pink flowers in front of his black robe and looks for a few seconds as if he would love to make the moment linger on as well. Or at least reproduce it – which he certainly will, when playing the concert halls in New York, Munich and Berlin soon.